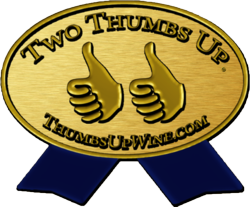 Not only does the ThumbsUp WineFinder find the best wines with a few taps of the screen, it also values the wine, and even highlights wines of extraordinary value.
Sonoma County, CA (PRWEB) September 20, 2012
ThumbsUpWine.com™ today announces the launch of WineFinder™, a tool for Apple and Android phones used by all wine drinkers and non-wine drinkers to easily find the best wine in a supermarket or warehouse store.
"We've spent three years working hard to solve a problem that affects anyone who's ever purchased a bottle of wine," said Joe Gaspardone, ThumbsUpWine.com's co-founder. "Picture yourself standing in the wine aisle staring at hundreds of choices. You might spend ten minutes there trying to find the right bottle and still be disappointed when you get home and pop the cork. We've solved this problem with a blend of wine industry expertise and cutting edge technology."
ThumbsUpWine.com has professionally tasted thousands of bottles of wine and evaluated each one based on hundreds of different characteristics. The WineFinder app leverages this data to quickly match the consumer with the best wines in the store, based on what the consumer is looking for. Searches can be basic – price, varietal, food pairings – or more advanced – geography, flavors, and palates. Full-screen bottle images allow the consumer to match the picture with the wine on the shelf.
"Not only does WineFinder find the best wines with a few taps of the screen, it also values the wine, and even highlights wines of extraordinary value," said Matt Eshoo, ThumbsUpWine.com's other co-founder. "Which means you're saving time, saving money and walking out with the very best bottles in the store. It's a great feeling when you buy that $12 bottle of wine and it drinks like a $30 value."
When the consumer is not in the wine aisle, WineFinder features a Browse function. Here, users can explore a wide variety of ThumbsUpWine.com's content in a casual-themed environment. For example, "Discover," allows users to scroll through bottle images, tap on what looks interesting, and then read the review. Other headings serve up a variety of ThumbsUpWine.com's entertaining, high-energy video reviews.
Gaspardone summed it up by saying, "Today's wine buyer isn't necessarily 'into wine' – they just want a really good bottle, and that's what WineFinder delivers to everyone, from the novice to the connoisseur."
About ThumbsUpWine.com
Located in the heart of Northern California's Wine Country, ThumbsUpWine.com is the leading website for today's wine consumer – nothing stuffy, nothing formal, just great information and a lot of fun. Joe Gaspardone and Matt Eshoo professionally review hundreds of supermarket and warehouse wines each month, then seamlessly pass along that information to the consumer via the WineFinder mobile app. Their expertise and passion for wine can be seen in a growing library of high-energy, high-impact video content available on the Thumbs Up Wine YouTube Channel and at http://www.thumbsupwine.com.
Media Contact:
Rich Henderson
ThumbsUpWine.com
rich(at)thumbsupwine(dot)com
(707) 478-3621