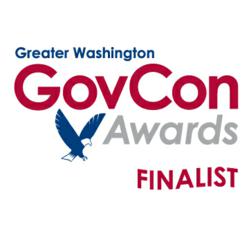 We are proud to have been recognized as a finalist by the prestigious Greater Washington GovCon Awards
McLean, VA (PRWEB) September 18, 2012
The Annual Greater Washington GovCon Award recognizes business in the region's government contracting sector with the best innovation, leadership, and excellence. Finalist and winners are chosen each year by the industry and government leaders to be given this prestigious award. Octo Consulting Group was chosen earlier this month as a finalist in the $25million category!
Octo Consulting Group is a management and technology consulting firm focused on providing federal government agencies with creative and actionable business solutions in the areas of program management, performance-based acquisition, IT management consulting, organizational change and business transformation.
The 10th Annual Greater Washington Government Contractor Awards will be presented by the Fairfax County Chamber of Commerce, Professional Services Council (PSC), and Washington Technology. Industry and Government leaders will gather for the announcement of the winners which will be announced at the award ceremony on Thursday November 1, 2012 at the Marriott Wardman Park. For more information about the GovCon Awards, please click here.
To learn more about Octo's solution areas and past performances with the government market visit our website. Add us on Linkedin, Facebook, and follow us on Twitter to read more about what is new at Octo Consulting Group!