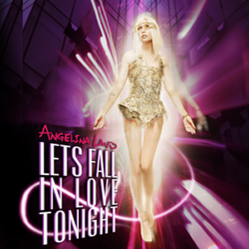 "I think that Fall In Love Tonight is one of those records... I think its going to connect with a really big audience" Max Clayman A&R Universal Republic
New York, NY (PRWEB) September 26, 2012
This morning at 10:00AM EST - dance and internet sensation Angelina Lavo announced the release of her new single, "Fall in Love (Tonight)" to 79,000 of her fans over Twitter.
Lavo Twittered, "IT'S TIME TO FALL IN LOVE!!! EITHER WITH SOMEONE... OR ANYTHING YOU DESIRE!!! " - @angelinalavo
Before her live performances in New York, Lavo returned to the studio to work with hit music producer Lu Diaz and Gamal "Lunch Money" Lewis – the result of which was, "Fall in Love (Tonight)".
The dance community has already shared the energy of "Fall in Love (Tonight)" with UK-based DJ Sebastian playing an impromptu remix at the Ministry of Sound weeks prior to the official release.
Listen to "Fall in Love (Tonight)" on ITunes here.
Watch Angelina Lavo's story on YouTube here.
Industry excitement appears to be growing rapidly with major label A&Rs publicly supporting "Fall in Love (Tonight)". The Porsche Design Store's DJ Marvelous played the single for New York City's 2012: Fashion Night Out along with the Sugar Art & Fashion Show selecting the single for their official "Unchained" Mixtape and release event.
About Angelina Lavo:
Angelina Lavo's first internet single and music video attracted over 600,000 views and over 12,000 music fans on Youtube. Lavo co-produced the single with Grammy-award winning music producer Sidney "Omen" Brown who has Billboard number one album cuts with Drake, Usher, Lil Wayne and Ludacris.
Following performances at fashion shows and private events in Manhattan, Angelina Lavo has entered the world of dance music with her new official single, "Fall in Love (Tonight)"
Company Information:
Founded in 2010 in Weerai Music, LLC is a rights management company that offers services in all aspects of the music industry. Weerai Music's current roster includes multi-platinum and Grammy-award credited music producers such as Jerome "J-Roc" Harmon (Missy Elliott, Justin Timberlake, Timbaland, Mario, Chris Brown and many others) and Sidney "Omen" Brown (credits include, Usher, Lil Wayne, Drake, Ludacris and many more.)