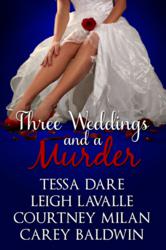 We are thrilled to have met and exceeded our $10,000 fundraising goal, and so grateful to everyone who helped us achieve it, from the thousands of readers who purchased our anthology, to the individuals who made donations large and small."
Santa Barbara, CA (PRWEB) September 20, 2012
Among the thousands planning to participate in the Avon Walk for Breast Cancer, a two-day, 39-mile event Sept. 22-23, four romance authors have gone the extra mile – penning a popular anthology and donating all proceeds of the work to the charitable cause. With more than $10,500 in donations and sales for THREE WEDDINGS AND A MURDER, Team Bodice Rippers is prepared to go the distance.
Debut romantic suspense author Carey Baldwin, whose new Samhain Publishing Release centers on the creation of a breast cancer vaccine, has a personal link to this important issue. "I'd have to say I didn't choose this cause—it chose me," Baldwin explains. "My mother died from breast cancer when she was only three years older than I am now. She never had a mammogram because she didn't have health insurance. After my mother's diagnosis, her sister went in for screening, and she too was diagnosed with breast cancer. Because my aunt's disease was caught early, she is now a long-term survivor. Mammograms are proven to reduce the death rate among women who develop breast cancer. Sometimes I can't sleep at night thinking about the fact that not everyone who needs a mammogram has access to one. I want that to change."
NYT and USA Today Bestselling author Courtney Milan agrees, and explains the group's particular focus: "While the term 'bodice rippers' has been used as a derogatory way to refer to romance novels, we wanted to emphasize that what lies beneath the bodice is an important concern for every woman. One in eight women will suffer from this disease over the course of her life. That statistic would be enough of a reason alone, but this cause is personal for us as well. We've suffered from devastating losses because of breast cancer, and the Avon Walk gives us a chance to come together and honor our loved ones."
According to Samhain debut author Leigh LaValle, the romance community's response has been particularly rewarding. "I have always felt proud to be part of the romance community. This project, and the generous reception it received from readers, writers and Samhain Publishing, reminds me how supportive and powerful the romance community is. I am so grateful to everyone who purchased the anthology or donated directly to our team. The romance community doesn't just write about happily-ever-after, it offers women cause to hope and dream for their future."
While the team hoped to receive a fair number of donations, they could not have predicted how much support they'd receive. Explains Tessa Dare, author of the NYT and USA Today Bestselling Spindle Cove series and a Samhain Publishing author: "We are thrilled to have met and exceeded our $10,000 fundraising goal, and we are so grateful to everyone who helped us achieve it, from the thousands of readers who purchased our anthology, to the individuals who made donations large and small--and we're especially thankful to Samhain Publishing for their tremendously generous support. We may appear to be a small group on the walk, but we know we have a huge team behind us."
According to Lindsey Faber, publisher of Samhain Publishing, donating to a cause like Team Bodice Ripper was an easy decision. "At Samhain Publishing, we interact with extraordinary women every day—our readers, authors, employees and industry peers. By donating to this cause, we're honored to help women and families stay healthy or recover after enduring Breast Cancer."
Although team donations are now closed, it is still possible to donate to the team by making a donation to an individual team member. There are links to each team member's page on the team page (http://info.avonfoundation.org/site/TR?team_id=107960&fr_id=2174&pg=team). The anthology will remain available through Sept. 25, 2012.
About the Authors
Tessa Dare (http://www.tessadare.com) is the New York Times and USA Today bestselling author of eight novels and three novellas. Booklist magazine named her one of the "new stars of historical romance." A librarian by training and a booklover at heart, Tessa takes great pride and pleasure in continuing to work part-part-time at her local public library. She makes her home in Southern California, where she shares a cozy, cluttered bungalow with her husband, their two children, and a big brown dog.
Leigh LaValle (http://leighlavalle.com/) recently released her Golden Heart®-nominated novel, THE RUNAWAY COUNTESS (http://store.samhainpublishing.com/runaway-countess-p-6667.html), to high acclaim. When she is not writing, mommying, or reading, she is rarely seen cleaning, and more often found hiking or, when she is really lucky, in the white powder of the ski slopes. Leigh is also a devoted yoga practitioner and instructor. She currently lives in the Pacific Northwest with her family, and is hard at work on her next novel.
Courtney Milan (http://courtneymilan.com/) is a New York Times and a USA Today bestselling author. Her books have received starred reviews in Publishers Weekly and Booklist. She's twice been a RITA® finalist, and her second book was chosen as a Publishers Weekly Best Book of 2010. Courtney lives in the Rocky Mountains with her husband, a medium-sized dog, and an attack cat. She's working on a garden, an older house, and her next book.
Carey Baldwin (http://careybaldwin.com/) is a mild-mannered doctor (still practicing full time) who happens to write edgy romantic thrillers. When you are a former clinical psychologist, writing about psychopaths comes easily, and when you are a hopeless romantic, well, you do the math! Carey has been a finalist in numerous writing contests, including Avon FanLit and the prestigious Maggies. Her first manuscript won the Golden Gateway award for best single title romance. Her debut novel, FIRST DO NO EVIL (http://store.samhainpublishing.com/first-evil-p-6845.html), released June 26, 2012 from Samhain Publishing.
About Samhain Publishing
Launched in 2005 with a vision of bringing extraordinary fiction to compulsive readers (who sometimes can't wait for a book to actually be printed), Samhain Publishing is an international publisher of ebook and traditional print fiction. One of the most prominent voices of original ebook fiction, Samhain represents some of today's brightest authors of romance and horror fiction. To learn why at Samhain "it's all about the story…", visit Samhain Publishing online at http://www.samhainpublishing.com.