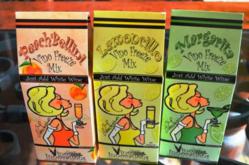 Try us and our sisters in the red wine assortment
Atlanta, GA (PRWEB) September 20, 2012
It's a gourmet marriage that was years in the making.
Old World Gourmet has sent the Vinolicious girls to New York to headline an incredible flash sale on Living Social.com.
The Living Social Wine Event runs from September 19 through the 25th. The entire Old World Gourmet vinolicious line will be featured but with a special twist. They will be paired in two distinct 3 packs. One is a red wine assortment consisting of the original wine ice mix, the blueberry pomegranate, and the sangria freeze. The other is a white wine assortment consisting of the peach bellini freeze, lemoncillo, and margarita freeze.
So Check out Old World Gourmet and the other participants during this special one week event and remember whether planning a party, wedding, holiday, gift, or just a get together, Old World Gourmet has the perfect addition.
About Old World Gourmet
Old World Gourmet is a manufacturer of frozen wine and liquor drink mixes and recipes who has been "serving fun for over a decade". OWG has a complete line of mixes and recipes for whatever your adult drink of choice and promotes all natural and made in the USA products. OWG products are found in finer gift retailers nationwide and online as well as online at the company website owgshoponline.com or on facebook.com/old world gourmet and twitter @oldworldgourmet