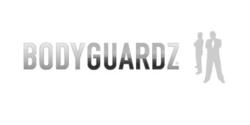 Draper, UT (PRWEB) September 19, 2012
Phillip Chipping's invention of a clear, full-body wrap using a special urethane film in 2005 revolutionized the case and protection industry for mobile devices. With the expiration of Chipping's non-compete clause with ZAGG, he has joined forces with BodyGuardz – the biggest competitor to ZAGG in the mobile protection industry.
"I've been watching the industry from the sidelines for the past four-and-a-half years, and it is evident that BodyGuardz, with its focus on the protection industry, has surpassed ZAGG, becoming the new leader when it comes to quality of products and customer care – two things that I care very deeply about. It is an honor to align myself with BodyGuardz," said Chipping.
"Phillip has a tremendous amount of knowledge and is an innovative thinker," said President and CEO of BodyGuardz Kirk Feller. "Those characteristics, combined with his dedication to quality and customer satisfaction, make him a natural fit for BodyGuardz. We are thrilled to have him join our team and look forward to his contributions as we further expand our solutions in the mobile device protection category."
Chipping's hiring comes on the heels of two major announcements from BodyGuardz: the launch of BodyGuardz UltraTough film, yet another major advancement in the protective film industry; and the release of Pure, a ground-breaking protective layer of tempered glass, both of which are available for the iPhone 4/4S and iPhone 5.
BodyGuardz UltraTough is now shipping and available for order on the new iPhone 5 at bodyguardz.com ($15.95 MSRP for ScreenGuardz and $24.95 for clear skins full body protection).
BodyGuardz Pure is available for the iPhone 4/4S and iPhone 5 at bodyguardz.com (MSRP: $39.95).
About BodyGuardz
BodyGuardz, founded in 2002, is a leader in the mobile electronics protection and accessories industry and is committed to offering top-quality products and services at a reasonable price. The company prides itself in providing products, service and delivery that customers notice is a step above the rest. BodyGuardz includes the UltraTough Clear Skins full-body films available for hundreds of devices; ScreenGuardz, screen protectors available in multiple film types; armor, which are custom-cut protectors featuring designs for device personalization; iPhone 4/4S fully customizable mykase; The Garrison for iPad and Kindle Fire: earjax premium ear buds and more. For more information, visit: bodyguardz.com/company.