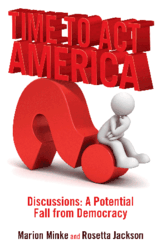 At its core, the book calls for unity and for every person to cast a ballot.
Pembroke Pines, FL (PRWEB) September 20, 2012
It's no secret that money plays a role in the U.S. election process, from determining the pool of candidates to funding campaign coffers and forming party beliefs. After four years of research, two authors present their findings in this new book that explores the differences between the country's political platforms and highlights the importance of voting.
"The 2012 election shows a glaring contrast between two completely different world views and the future direction of our country," they write in the first chapter. "Whoever wins this election will impact this country in very significant ways."
"Time to Act America: Discussions: A Potential Fall from Democracy" lists the main accomplishments – and failings – of the Democratic and Republican parties over the last four years while acknowledging that the nation's democracy continually evolves. The authors passionately detail their views on election transparency in government, political rhetoric, economic policies, the impact of the religious right and Super PACs, the role of the media, and the squeezing of the middle class. Charts at the end of each chapter present their summaries of each party's views on the issues.
Along with pointing out problems, the authors offer suggestions for solutions to governmental problems such as making votes of congressional districts more transparent, cutting housing and travel costs for congressmen, term limits, voter IDs and tax reform. At its core, the book calls for unity and for every person to cast a ballot. The authors provide checkpoints voters can use to evaluate candidates so they can exercise their power to participate in the democratic process as informed representatives.
"The most important responsibility our founding fathers gave us is our power to vote," they write. "It is also the reason our democracy exists, our government is there to serve the people who allow it to exist."
Author Marion Minke received a master's degree in guidance and counseling from Purdue University. Minke has held positions in management, training development, proposal management, writing and teaching. Author Rosetta Jackson earned a master's degree in nursing administration from Florida Atlantic University. After learning she had kidney disease, Jackson transitioned her career focus to healthcare risk management and legal nurse consulting.
----------
For additional information call 954-443-5977. Please visit http://dovetailersinc.com/Contact.html or http://www.dovetailersinc.com
Time to Act America: Discussions: A Potential Fall from Democracy
Marion Minke and Rosetta Jackson
Dog Ear Publishing
ISBN: 978-1-4575-1403-6
164 pages
$14.95 US
Available at Ingram, Amazon.com, Barnes & Noble and fine bookstores everywhere.
About Dog Ear Publishing, LLC
Dog Ear Publishing offers completely customized self-publishing services for independent authors. We provide cost-effective, fast, and highly profitable services to publish and distribute independently published books. Our book publishing and distribution services reach worldwide. Dog Ear authors retain all rights and complete creative control throughout the entire self-publishing process. Self-publishing services are available globally at http://www.dogearpublishing.net
and from our offices in Indianapolis.
Dog Ear Publishing – self-publishing that actually makes sense.