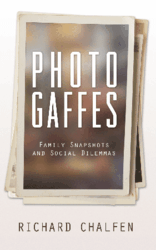 (The author) has researched family photographic habits for four decades in the United States and Japan.
Boston (PRWEB) September 19, 2012
They say a picture is worth a thousand words, but sometimes it takes words to make people appreciate the photos in their lives. In this new book, a newspaper advice columnist known as "Eastman" shares letters sent by readers about their photography-based dilemmas. In his well-crafted responses, Richard Chalfen provides advice ranging from when it's appropriate to take photos as well as ways to repair relationships harmed by photos. As the most photographed people in the history of the world, he notes in the introduction, "Ordinary people have been empowered to take over the process, to make their own choices of what is important and do it themselves."
"PHOTOGAFFES: Family Snapshots and Social Dilemmas" tackles amateur photography from three points of view: film-based photos, digital photography and mobile phone snapshots. Chalfen includes letters about exhibiting photos in bathrooms, personal snapshots in prison, aging moms, reluctant waiters, kids' bathtub photos, revealing holiday photos, online photos, camera phone etiquette and party photos. He advises a mom worried about her son taking photos of homeless people and through the neighbors' window, chimes in on whether it's OK to take photos at a nude beach, questions a husband who takes too many photos of young women at parties, and discusses the propriety of sending sonograms via cell phone.
As demonstrated in letter after letter, photographs play a large role in today's life. Besides dispensing practical advice about photography practices and photos themselves, Chalfen looks at changing technology and the accompanying changing social implications of capturing people and places with cameras of any sort, exploring how re-invented cameras and technology might be re-inventing society.
Author Richard Chalfen studied photography at Tulane University and filmmaking at the Anthropology Film Center in Santa Fe, N.M., and the University of Pennsylvania. Chalfen has degrees in communication studies and anthropology, with a doctorate in visual communication from the Annenberg School at the University of Pennsylvania. He has researched family photographic habits for four decades in the United States and Japan. The author lives in Boston and keeps a daily photo diary. He also wrote "Snapshot Versions of Life" and "Turning Leaves: the Photograph Collections of Two Japanese American Families."
----------
For additional information, please visit http://www.photogaffeschalfen.com.
PHOTOGAFFES: Family Snapshots and Social Dilemmas
Richard Chalfen
Dog Ear Publishing
ISBN: 978-1-4575-1182-0 224 pages $13.99 US
Available at Ingram, Amazon.com, Barnes & Noble and fine bookstores everywhere.
About Dog Ear Publishing, LLC
Dog Ear Publishing offers completely customized self-publishing services for independent authors. We provide cost-effective, fast, and highly profitable services to publish and distribute independently published books. Our book publishing and distribution services reach worldwide. Dog Ear authors retain all rights and complete creative control throughout the entire self-publishing process. Self-publishing services are available globally at http://www.dogearpublishing.net
and from our offices in Indianapolis.
Dog Ear Publishing – self-publishing that actually makes sense.