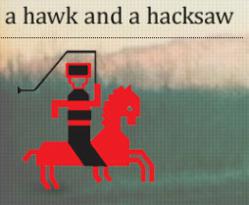 The sheer brilliance of the live soundtrack overruled any disturbance, and it was easy to see why HAAH were drawn to such a diverse project -The Flaneur
(PRWEB) September 18, 2012
In partnership with QU Junktions and The Russian film council,A Hawk and A Hacksaw will be performing a live music score to Sergei Paradjanov's classic 1964 film "Shadows of Forgotten Ancestors." The idea is not to accompany a silent film but to work with the existing dialogue and score to create a new blend of live music and prerecorded sound that accompanies comments on, and sometimes overtakes the original soundtrack and dialogue. The border between live instrumentation and film score becomes blurred, just as Paradjanov's film masks the boundaries between realism and magic. Film concerts are listed in the "live section." This event is featured on Santa Fe's premier on-line visitor guide SantaFe.com.
"The whole audience was enraptured and you were only reminded that the marching drums or whirligig accordion was being played live by the modest movements at the periphery of the stage, a perfect marriage that floated and raged like Marichka's body in the undertow." Kollectivnye
"The sheer brilliance of the live soundtrack overruled any disturbance, and it was easy to see why HAAH were drawn to such a diverse project; not only is their style near-matchless, but it seems a fine match only for a film so deeply rooted in archaic folklore and the passionately dark human spirit." -The Flaneur
Cloacas is a tiny mountain orchestra in a wooden box with rusty hinges. Listening to Cloacas is like traveling sideways in time. This ensemble invokes elements of folk, Americana, Classical, and American gothic styles as well as whatever their acoustic instruments inspire. They present a humorous but sincere irony that is sometimes bittersweet and melancholic, and sometimes gangly-legged and goofy.
Tickets: Free admission
Location of Event:
Cinemacafe
1616 St. Michaels Dr.
Santa Fe, NM
About the Santa Fe Reporter Arts Festival:
Experience the arts in Santa Fe with twelve days of great music, local art, film, dance, live performances, theater, food, drink and more.
Presented by Heath Concerts, Meow Wolf, T-Cubed Productions, Team Everything, After Hours Alliance, MIX, Jade Presents, Southwest Roots Music, Joe Anderson Werks & Co-Sponsored by Hutton Broadcasting, SantaFe.com and SITE Santa Fe
About SantaFe.com:
SantaFe.com provides locals and visitors to Santa Fe alike the most current interactive platform for events, music, arts, business, dining and lifestyle. SantaFe.com is a division of Hutton Broadcasting, located at 2502 C. Camino Entrada, Santa Fe, NM 87507
Contact Information:
Scott Hutton
SantaFe.com / Hutton Broadcasting
http://www.santafe.com
(505) 471-1067 (Media inquiries only, please)