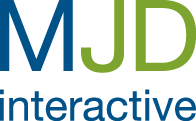 San Diego, CA (PRWEB) September 19, 2012
MJD Interactive Agency, a San Diego based digital agency, announced Wednesday four new client additions and one new hire to the MJD family. New clients include Falken Tire, Titleist Golf, Riot Games and Eventful. MJD duties range from iOS application design and development to full scale enterprise website branding projects built in Drupal and .Net technologies. Ron Toland was brought on as Senior Developer as a direct result of the successful new business development efforts.
"We are really excited to be working with such great brands and people. Our "Redefining Interactive" philosophy has resonated with a lot of companies looking to create meaningful interactions with their clients and push what can be done through design, technology, and content. Stay tuned for some cool work in the next few months!"
Toland, a former Optical Engineer as NASA, joins MJD Interactive with a background specializing in System Administration, Enterprise Drupal, Server-Side Engineering, PHP, HTML, Clojure, and MySQL, to name a few. He has extensive experience as a full-stack web developer, which means he's comfortable working in each layer of the LAMP stack, from the server all the way up to the CSS and JavaScript.
"Ron's leadership qualities are going to be very key here at MJD," Chief Technology Officer Travis Cunningham said. "He has already demonstrated that by giving an in-house training session on version control so the entire dev team is standardized - solid efficiency across the board."
Most recently at Pathway Genomics, Toland was a Software Engineer on the team responsible for the client-facing portions of the website, including a physician-only tool for placing orders with the company, as well as the company's internal web-based tools. He was directly responsible for application development, configuration management, version control, reviewing the code of other developers, setting development standards and enforcing best practices across the team.
With four additions to MJD's client-base as well as existing client projects, Toland will work on a diverse set of projects on multiple platforms, from Drupal to iOS. "I'm excited to work with a team that really focuses on customers and end-users," stated Toland. "I want to help Travis turn the dev team into a finely-tuned, high-performance machine. I want to push myself and the other devs to get a little better every day."
About MJD Interactive Agency
MJD Interactive Agency helps our clients build brands and achieve business objectives with innovative, award winning digital experiences. We are Redefining Interactive™ - bringing the medium to a new level by building immersive experiences wherever our client's audience engages with them in the digital world. This includes building and refining their digital brand, their website, mobile apps, interactive displays, through search and social media. A heavy concentration on analytics and scientific campaign testing and iteration ensures that we're getting the best possible return on all online marketing initiatives.