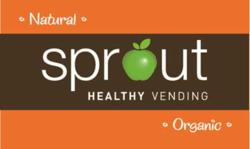 Irvine, California (PRWEB) September 20, 2012
The newest operator of Sprout Healthy Vending, Joe Bittner, will have his machines located in Dallas, Texas and the surrounding areas.
Looking to start a business, Bittner saw a posting for Sprout Healthy Vending and was immediately attracted to the concept so he explored it further.
"I decided the vending business could provide a good ROI for a manageable investment, provide a valuable service to our community and create business structure with a lot of independence," Bittner says. "I then determined that Sprout Healthy Vending offered the best model to enter into this business."
The high level of operator support and independence solidified his decision to go with Sprout over the competitors.
"One thing I specifically like is the name, it is very self-descriptive. When asked, I simply clarify that these are vending machines filled with organic and natural foods that can be customized to meet any nutritional requirements," Bittner says.
Having been in the health plan consulting business his whole career, Bittner understands the impact that a person's lifestyle has on the cost of health care. "I have actively been involved in the development of 'wellness' plans and the implementation of incentives toward a healthier lifestyle, this is just an extension of that experience."
Bittner continues, "Both my wife and I try to lead healthy lifestyles and with three active teenagers we know it can be hard to always eat at home, so finding healthier alternatives in a vending machine is something we can relate to."
Bittner strongly believes that this program will be well received in the Dallas market. "People want to eat healthy and there is a need for convenient, affordable healthy options. The Sprout Healthy Vending machines offer just that," Bittner states. "With obesity on the rise changes in nutrition options are occurring in schools, offices, community centers, etc. and we are thrilled to be a part of that change."
About Sprout Healthy Vending
Sprout Healthy Vending provides state-of-the-art vending technology, thousands of healthy and organic products and turnkey customer solutions for regional operators. Currently, Sprout Healthy Vending has over 80 operators in 40 markets in the U.S. with 1,000 individual locations projected by the end of 2012. To learn more about the company, locations and products please visit http://www.sprouthealthyvending.com or call (800) 450-7648.