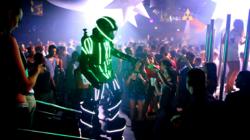 (PRWEB UK) 20 September 2012
CEP have a residency at the Sugar Hut every Friday, which is booked by Kirk Norcross, a former star of reality television show, The Only Way is Essex. The Sugar Hut is often featured on the show hosting many of the lavish parties. Kirk's dad Mick Norcross is the owner of Sugar Hut and currently still a part of the television show.
The Sugar Hut includes a restaurant, bars, nightclub, private members areas and a courtyard. It offers an Eastern setting combined with Western ideals in the heart of Essex. The Sugar Hut holds events on a regular basis with celebrity DJ's and stars, and is also available for private hire, which Danny Dyer arranged for his daughters birthday.
Corporate Entertainment Professionals filled the Sugar Hut with a selection of acts including the canditron robot, a ten foot tall robot covered in a thousand colour-changing LED lights, as well as Co2 guns, lazer lighting and pyrotechnics. CEP provides the canditron robot for hire, which is the latest project to join the portfolio of entertainment.
Other acts to collaborate with the canditron robot included a team of multi dancers, angle grinder dancers that provide a thrilling edge to a party. Other acts include a selection of stilt walkers in particular Las Vegas show girl stilt walkers and disco ball heads. The mirror ball heads can be talking, dancing or human statues and give a 70's theme to the party.
The private event booked by Danny Dyer provided an unforgettable stage display for the invite only guests, with a wide range of entertainment with the canditron robot being center of stage and creating a state of art show. The robot used cannons to blast Co2 into the crowd and pyrotechnics to create special effects such as smoke, flashes and explosions, proving to be a popular choice among the crowd.
Sammi Fellows from Corporate Entertainment Professionals said, "The birthday party was great, it was the robot they booked along with stilt walkers and disco ball heads. The birthday girl, Danny dyers daughter seemed to enjoy it especially the robot."
Corporate Entertainment Professionals are one of the UK's premier entertainment agencies. They provide entertainment for corporate events and wedding entertainment. CEP has a selection of acts mentioned above as well as fire eating and breathing acts, magicians, burlesque dancers, human statues, podium dancers and much more.
They also provide bespoke entertainment, which include a human tree, human tables, contortionists, casino tables and bespoke hire. Available for hire are Candi floss machines, popcorn machines, ice cream machines and chocolate fountains.
Corporate Entertainment professionals offer event management for any occasion, not only adult parties but children's entertainment as well. The CEP website: http://www.corporateentertainmentprofessionals.co.uk/ has a range of event management services and acts available for anyone to browse and book, or you can call them to customize an act to suit your event.