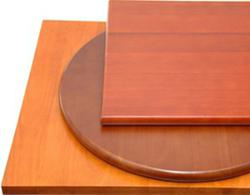 (PRWEB) September 20, 2012
Leading restaurant furniture supplier Affordable Seating continues to outshine its competition by offering a stylish and durable selection of restaurant table tops made in America and meant to last. Affordable Seating's Solid Wood Butcher Block Table Tops, Solid Wood Plank Table Tops, Veneer Wood Table Tops and Custom Laminate Table Tops are part of a wide selection of American-made goods that can fit any venue, whether it's an upscale dining establishment, neighborhood bar or trendy coffee house.
While most restaurant furniture sellers offer goods made in China, Affordable Seating's table tops are an example of fine American craftsmanship that will satisfy restaurant owners trying to control costs.
Affordable Seating's table tops come in sizes from 24 to 60 inches in diameter. Restaurateurs can choose from a variety of finishes for wood table tops and dozens of Wilsonart color choices for custom made laminate table tops.
Of course, when choosing table tops for a restaurant, bar or any other hospitality business, finding the right table bases to match is of the utmost importance. At affordableseating.net there is a wide selection of table bases to choose from. Affordable Seating offers a help center on its website in which restaurateurs will find a guide to choosing the right table tops and bases to match. Restaurateurs can also consult Affordable Seating's customer service experts at (888) 495-8884 to see if the table tops they are interested in would best go with X Prong Table Bases, Round Table Bases, Bolt Down Table Bases or Chrome Table Bases.
In addition, Affordable Seating is known for offering a wide selection of affordable and durable restaurant chairs, bar stools, booths, patio furniture, furniture sets and dinnerware. Affordable Seating's customer service representatives take advantage of their experience and expertise to help businesses come up with a cohesive seating plan that will help any establishment reach its full potential.
Affordable Seating's Solid Wood Butcher Block Table Tops and Solid Wood Plank Table Tops offer uncompromising quality, built to withstand the rigors of commercial use, starting at just $67.50 for a 24" x 24" size. The Oak Veneer Table Tops at affordableseating.net start at only $54 for the same size. For those seeking custom laminate table tops for their establishments, prices start as low as $40.
Affordable Seating has table tops for any price range, with reversible round and square table tops made from high impact melamine for as little as $22. For those who wish to make a splash at an upscale establishment, Affordable Seating's beautiful Custom Table Tops with Laminate Inlay and Wood Edge may be the answer. Affordable Seating also offers granite and plastic table tops, plus, for those seeking table tops for outdoor seating, there are Werzalit Square & Rectangular Table Tops.
Restaurateurs who are serious about their businesses know that short-term thinking can be detrimental to the success of a restaurant. Affordable Seating's selection of table tops is built to last for years by people who are experts at making furniture for commercial use. Great prices, great service and an array of table tops made in the USA set Affordable Seating above all other restaurant furniture manufacturers.
To browse Affordable Seating's selection of table tops visit http://www.affordableseating.net or call their customer service representatives at (888) 495-8884 for answers to any question about restaurant seating.