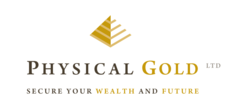 The strength of gold as currency weakens speaks for itself.
(PRWEB UK) 19 September 2012
The specialists at leading UK gold firm Physical Gold have responded to a further rise in gold prices as they reach their highest in 6 ½ months following monetary easing measures by the Bank of Japan.
The Bank of Japan has increased its asset buying and loan programme by 10 trillion yen ($127 billion) to 80 trillion yen. The move, which echoes moves by the Federal Reserve and European Central Bank to spur economic activity via bond purchases, is expected to weaken currency and lift inflation.
In response, spot gold rose as high as $1,779.10 an ounce, raising gold's appeal as a hedge against inflation.
Physical Gold has responded to the rise in gold prices, further exaggerating the importance of investing in gold during an uncertain economy.
A spokesperson at the company said: "Following monetary easing measures by the Federal Reserve and Bank of Japan this week, we have seen gold prices reach their highest in months. The strength of gold as currency weakens speaks for itself.
"Gold investment is an easy and safe way of guarding your future. Many will be surprised at how simple it is to add gold bullion coins and bars to their investment portfolio. In these uncertain economic times, it is becoming a viable option for many."
Physical Gold is continuing to watch these latest gold developments with interest.
Physical Gold Ltd is a leading UK gold dealer, helping investors diversify their portfolios with innovative investment solutions. Renowned for their ground breaking products such as the Sipp gold and Gold Accumulation Account, the firm specialise in providing customers with tailored assistance in sourcing the best gold for their personal requirements. Based in London, the team are BNTA accredited and have an unrivalled knowledge of the gold market as well as an exceptional understanding of the general financial markets.