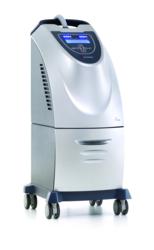 Viora's Rent-to-Own Program provided us with the flexibility to make the decision in our own time.
Jersey City, NJ (PRWEB) September 27, 2012
Viora's popular "Rent-to-Own" program for Reaction™ is now available in Canada to medical aesthetic practitioners. Canadian physicians have the ability to introduce the leading medical aesthetic device for body contouring and skin tightening into their practice at minimal risk – with no capital investment, no financing, and no long term commitment. Reaction™, a multi-frequency, bi-polar, non-invasive device, has Health Canada certification for skin tightening and cellulite reduction.
The Rent-to-Own Program is a two-stage plan that offers a four-month trial period at minimal cost, with complete marketing and clinical support to help practitioners incorporate Reaction into their current treatment offerings. Following the trial period, physicians can continue monthly payments, without any commitment, with an option to purchase Reaction™ for $1 at the end of the program. Following the successful incorporation of the program in the US, American doctors have found the plan to be an ideal method to introduce Reaction into their practices.
Practitioners interested in learning more about Reaction™ and the Rent-to-Own Program can visit Viora on Sept. 30-Oct. 1 at the Esthetique Spa International: ESI in Montreal.
"We wanted to try the Reaction device because our patients were requesting non-invasive solutions with no downtime. Before making the capital investment, we wanted to be sure that this system really answered our needs," said Nicole Hayre MD, board-certified dermatologist and founder of the Cosmetic Dermatology Center in Virginia, USA. "Viora's Rent-to-Own Program provided us with the flexibility to make the decision in our own time. With Viora's support, we were able to achieve positive results which ultimately translated to satisfied customers – and enabled us to get a second unit to address the demand we have seen for Reaction."
"The Rent-to-Own program is a unique customer-centric approach that allows Viora to provide physicians with excellent training, state-of-the-art marketing support, and most importantly, clinically effective treatments," said Eliran Almog, CEO of Viora Inc. "Physicians can introduce Reaction without any capital investment or long term commitment, and determine for themselves whether it is the right device for their practice. The overwhelming majority of customers who have taken part in this program in the US have realized a speedy ROI and completed outright purchases of Reaction."
About Reaction
Viora's Reaction™ offers non-invasive body contouring and cellulite reduction treatments, featuring the new-age CORE™ (Channeling Optimized RF Energy) technology. Only CORE™ delivers three distinct RF treatment modes and a multi-channel mode that incorporates all frequencies, delivering exceptional treatment accuracy and results. Reaction™ is endorsed by leading physicians and dermatologists worldwide.
About Viora
Viora is a market-leading manufacturer and technology provider of light-based and advanced radiofrequency systems, microdermabrasion and electro-mesotherapy for the global aesthetic and medical markets. All of the products are developed by a team of veteran engineers in the industry as well as medical experts including physicians, surgeons, dermatologists, medical researchers and independent clinical directors. For more information, visit http://www.vioramed.com.