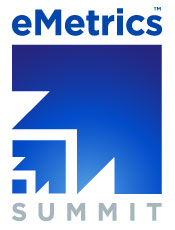 BOSTON, MA (PRWEB) September 20, 2012
Big data is taking center stage at eMetrics Summit in Boston, MA, September 30 - October 4, 2012. The agenda is packed with sessions on mobile marketing and social metrics, best practices in optimization, deep data diving and metrics management. Industry leaders will demonstrate how to transform the explosion of raw data into real results.
Mobile marketing and social media play a key part in this eruption of new information. As screens, apps and platforms proliferate, businesses are calling on big data analytics to gain better insights into consumer behavior. But how can these insights be translated into ROI?
The answer lies in Boston. Speakers from Adidas, Google, IBM, Comcast, SportsNet, Walmart.com and other international companies have taken the theme of the event, "Leveraging Customer Data to Drive Business Strategy," and illustrated it with their own experiences in a big data-driven marketplace:

Local search, game monetization, optimizing mobile apps, driving social and mobile traffic – every potential opportunity is broken down into clear, actionable steps.
Combine insightful keynotes, breakout sessions, roundtable discussions and two full days of workshops and you have the formula for a personally enriching summit.
Register before September 28 for eMetrics Summit in Boston, MA (September 30-October 4, 2012) and save up to $200 over on-site registration. Bring the team and take advantage of up to $1,000 additional savings.
View the full agenda and see all the in-depth sessions available.
About the eMetrics Summit
Marketing executives, managers, and business intelligence experts have been meeting at the eMetrics Summit since 2002 to learn how to increase their return on online investments. The international conference series is recognized as the premier event for optimizing online marketing value. To learn more, visit: http://www.emetrics.org.
About Rising Media
Rising Media is a global events producer excelling in Internet and technology-related conferences and exhibitions. Rising Media-produced events include Data Driven Business Week, eMetrics Summit, Conversion Conference, DemandCon, GAUGE, Predictive Analytics World, Text Analytics World, Affiliate Management Days, Building Business Capability, Social Media Economy Days, Web Effectiveness Conference, Search Marketing Expo, SemTech and Social Gaming Summit in the US, Canada, UK, France, Germany, Sweden, Finland and Australia.