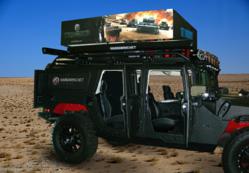 Pleasant Prairie, WI (PRWEB) September 20, 2012
Catalyst Exhibits, Inc., an award winning global exhibit company, and client Wargaming.net, announced that the next base of operations for their mobile-marketing tour will be at the California International Air Show September 22nd and 23rd in Salinas, California.
Encased in a customized Hummer, and featuring an arsenal of audiovisual equipment, the tour showcases the game maker's award-winning suite of massively multiplayer online (MMO) war games.
At the upcoming show in Salinas, players will have the chance to battle each other in the globally renown tank game, World of Tanks; take to the skies in a fighter plane game, World of Warplanes; or duke it out on the high seas in a soon to be released battleship game, World of Warships.
Wargaming.net's massive military vehicle was well received by crowds earlier this month at the California Capital Air Show. Consumers, airplane enthusiasts and hardcore gamers alike are eagerly anticipating the Hummer's second scheduled appearance at the California International Air Show September 22nd and 23rd. Details for the tour's upcoming stops will soon be released.
Catalyst Exhibits, Inc. is a global exhibit company offering a range of solutions guided by the client's underlying marketing strategy. Headquartered in Pleasant Prairie, Wisconsin, with offices in San Francisco, Amsterdam and Shanghai, Catalyst Exhibits, Inc. employs a collection of skilled designers and associates ready to showcase your organization to the world.