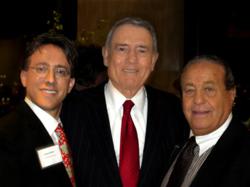 The best reception the Talking Heads has had!
Boston, MA (PRWEB) September 19, 2012
On September 12, Boston-based speakers bureau American Program Bureau hosted the annual meeting of the Talking Heads, a group comprised of the executive directors of some of the nation's most highly acclaimed town halls and lecture series.
The prominent speakers who addressed the attendees were legendary broadcast journalist Dan Rather, best-selling inspirational author Wes Moore, technology expert David Pogue, Madoff whistleblower Harry Markopolos, life cycle expert Gail Sheehy, Pulitzer Prize-winning journalist Sheryl WuDunn, and best-selling author Andre Dubus III. They shared with the audience their thoughts on such current events as the election, global issues, and technology.
Dan Rather, Wes Moore, David Pogue, Harry Markopolos, Gail Sheehy, Sheryl WuDunn, and Andre Dubus III are all available for speaking engagements through American Program Bureau. Individuals who are interested in booking any of these speakers should email apb(at)apbspeakers(dot)com or call 800-225-4575.
About American Program Bureau (APB):
In business since 1965, the American Program Bureau represents a roster of high-profile speakers from entertainers and politicians to thought leaders and academics. Learn more about APB at apbspeakers.com or find APB on Twitter @apbspeakers.