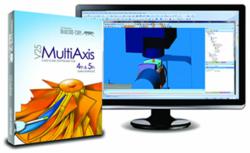 We have added seven surface based toolpaths for multi-axis milling
Clearwater, FL (PRWEB) September 20, 2012
BobCAD-CAM recently launched their new 4 and 5 axis cnc software offering more solutions for manufacturers to machine highly complex parts faster and easier. A good example of this would be the amount of complexity and time it normally takes a cnc programmer to machine an impeller or fan blade type part. "These types of parts are almost impossible to program by hand and if you could, it might take days to set everything up," said Greg Myers who runs the development team at BobCAD-CAM. "This is why CAD/CAM software is such a huge benefit for cnc businesses that need to make multi-axis parts on their machines," he added.
The BobCAD-CAM multi-axis software gives programmers crucial 4 and 5 axis machining options that include Rotary Toolpaths. These cutting toolpaths can be used to mill cylindrical parts by either machining along the rotation axis or around the rotation axis. 5 axis trimming toolpath is calculated base on using wireframe geometry or the edges of models. This gives the programmer complete control of the tilt angles by the use of orientation lines to align the tool axis. One primary application for this toolpath is for trimming vacuum molded parts. "We have added seven surface based toolpaths for multi-axis milling," said Myers.
The new software is proven to reduce machine cycle times and allow programmers to achieve higher quality finish results on parts. For more information on multi-axis cnc milling software you can contact BobCAD-CAM directly at 877-262-2231 or visit them online at http://www.bobcad.com.