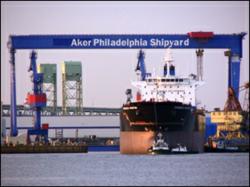 PIDC Regional Center's EB-5 Loan came at a critical time ...This alternative type of financing really helped Aker make improvements that were needed.
New York, NY (PRWEB) September 21, 2012
CanAm Enterprises LLC, ("CanAm"), is pleased to announce that Aker Philadelphia Shipyard, Inc. ("Aker") repaid its $20 million EB-5 Partnership Loan to CanAm's Philadelphia Industrial Development Corporation (PIDC) Regional Center. The Aker project is the 13th CanAm EB-5 project that has successfully repaid its investors 100% principal, further establishing CanAm as one of the leading promoters of EB-5 immigration-linked investment funds.
Aker is a leading U.S. commercial shipyard constructing vessels for operation in the Jones Act Market. The $20 million EB-5 loan financed improvements to Aker's shipbuilding facility, and helped make possible the purchase of state-of-the-art equipment. A portion of the loan was also used to fund training programs for new and existing employees. These improvements have enabled Aker to achieve greater levels of efficiency to build low-cost vessels.
"PIDC Regional Center's EB-5 Loan came at a critical time during a very rough patch in the shipbuilding industry. This alternative to more traditional types of financing really helped Aker make improvements that were needed, and allowed us to invest in new equipment and in training our people," said Jeffrey Theisen, Chief Financial Officer of Aker Philadelphia Shipyard.
The Aker investment successfully achieved the job creation and economic development goals of the EB-5 Program during a difficult period for the U.S. shipbuilding industry. "We are thrilled that the EB-5 Partnership Loan, sponsored by the PIDC Regional Center, played a major role in making this project a success for everyone involved -- our investor families, Aker and the City of Philadelphia," said Tom Rosenfeld, President & CEO of CanAm Enterprises.
The EB-5 Immigrant Investor Program is administered by the United States Citizenship and Immigration Services (USCIS). The program provides opportunities for qualified foreign nationals to achieve permanent legal residency in the U.S. through an investment in an USCIS-approved project that will generate at least ten, new full-time jobs in the United States.
About CanAm Enterprises, LLC
With over 25 years of experience promoting immigration-linked investments in the United States and Canada, CanAm Enterprises, LLC ("CanAm") has a long and established track record. Based on a reputation of credibility and trust, CanAm has financed nearly 40 project loans and raised over $1.3 billion in EB-5 investment funds to date. CanAm exclusively operates five government-affiliated USCIS-designated Regional Centers that are located in the City of Philadelphia, the Commonwealth of Pennsylvania, the County of Los Angeles, the State of Hawaii and the North Country Region in Plattsburgh, NY. For more information, please visit our website at http://www.canamenterprises.com.
About The Philadelphia Industrial Development Corporation (PIDC)
Philadelphia Industrial Development Corporation (PIDC) is Philadelphia's city-wide economic development corporation. Founded in 1958 as a non-profit, joint venture between the City of Philadelphia and the Greater Philadelphia Chamber of Commerce, PIDC plans and implements real estate and financing transactions that attract investment, jobs and tax ratables to the City of Philadelphia. For more information, please visit: http://www.pidc-pa.org