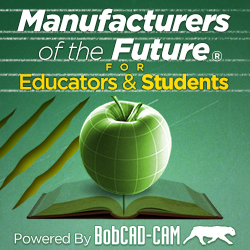 Clearwater, FL (PRWEB) September 24, 2012
When it comes to kids learning to become manufacturers BobCAD-CAM Software has an entirely different take on them as "Manufacturers of The Future." It's because of this that BobCAD-CAM decided to create and launch their all new "Manufacturers of The Future" program for schools, teachers and students everywhere! The goal of this program is to provide teachers and students with the latest in CAD Design and CAM, CNC machining software technology at costs that can easily fit into their budget.
This program includes special pricing that works for schools as well as for students that want a powerful CAD/CAM solution they can take with them as they enter the work force upon graduation. BobCAD-CAM is already working with many schools throughout the nation as well as Canada to support their efforts in education students at all levels and of all ages. "We have really seen some success so far with the program that has setup several schools with complete lab packages, training video products and several hundred students have already graduated and have entered the workforce equipped with software giving them the head start that they needed to be successful," said Kevin Hughes who is the director of the student success department at BobCAD-CAM software. These class-lab software packages include training tutorials and video instructional materials that are aimed at creating professionals with the skills required to enter the manufacturing industry successfully. Currently students that sign up for the program receive a complete 2D & 3D CAD Design solid modeling system at no cost to help them with design, solid modeling and drafting.
For more information on how the Manufacturers of The Future program can help your school or assist you as a student call 866-408-3226 or visit BobCAD-CAM online at http://www.bobcad.com.