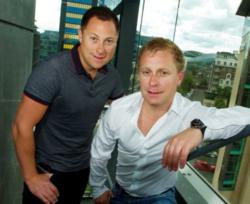 boxPAY can help ecommerce companies increase sales significantly with a fast, convenient payment option that they can easily integrate into their existing website or app
Dublin, Ireland (PRWEB UK) 20 September 2012
Mobile payment options are growing in popularity since they provide a quick, simple way for customers to make online purchases without registering at a website or providing credit card information. boxPAY, an innovative mobile payment provider that serves web merchants, game developers and e-businesses, is rapidly expanding its worldwide operations. Today, the company announced that it has launched mobile carrier payment services in China, Hong Kong, Indonesia, the Philippines, Singapore, Thailand, Vietnam, Malaysia, Taiwan and India.
boxPAY, which currently operates in more than 60 countries worldwide, announced its latest expansion as part of an ongoing effort to establish operations in a total of 75 countries before the end of 2012. boxPAY is currently preparing to launch new operations in a number of Latin American countries to reach that goal.
With boxPAY mobile payment services, online merchants and content publishers can easily integrate a convenient payment option into their site or app, expanding their target markets to reach potential customers who do not have credit cards or those who are at risk of abandoning purchases due to a lengthy registration and transaction process.
boxPAY enables customers to make a mobile payment using carrier billing, adding the cost of the transaction to their mobile phone bill or prepaid balance after a quick SMS verification. By making the purchase process convenient for consumers, online merchants can significantly improve offer response rates.
"boxPAY can help ecommerce companies increase sales significantly with a fast, convenient payment option that they can easily integrate into their existing website or app," said Iain McConnon, Co-Founder of boxPAY. "Mobile payment options through carrier networks are especially important in countries where credit card use is less prevalent, so we're expanding worldwide to meet the growing demand."
boxPAY currently works with carriers in over 60 countries and has offices on four continents. Find out more about boxPAY and its innovative mobile payment solutions at http://www.boxpay.com.
About boxPAY, Ltd.
boxPAY is a mobile payments platform that provides web merchants, game developers, and other e-businesses the ability to charge customers for digital content through a mobile phone instead of a credit card. Customers can make a purchase on a merchant website with no pre-registration required, and the charge is added to their mobile bill or deducted from a prepaid balance. boxPAY utilizes SMS and direct carrier billing, and can be integrated into a merchant website from our user-friendly, self-service website in minutes. boxPAY is connected to mobile carriers in over 60 countries and has offices on four continents. http://www.boxpay.com