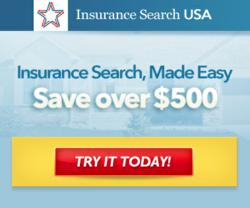 Quality Insurance Coverage At The Lowest Rates.
Virginia Beach, VA (PRWEB) September 19, 2012
It's no surprise to American consumers these days to hear about fluctuating costs at the pumps and getting a handle on other day-to-day expenses, so what are people doing to save and mange their budgets?
Many tech savvy Americans are turning to services like InsuranceSearchUSA.com to analyze their overall yearly re-occurring expenses allowing them to save overall without disrupting their daily routines.
Instead of cutting costs like the much needed morning brew from their favorite roastery, managing monthly costs allows them to reduce spending in a way that still allows them to maintain a desired quality of living.
InsuranceSearchUSA.com allows visitors to the site to look into essential services such as car insurance, home, life and health insurance with top insurance companies in their area to see if there is more room for savings by comparing quotes.
Often, consumers see a savings of over $500 per year.
With such a competitive market and new insurance rules and discounts being introduced, many consumers are surprised to see that they could be saving up to 40% on insurance compared to the last time the checked their rates.
This is because InsuranceSearchUSA.com does all the searching for them by bringing together all the top insurance companies into one listing where they bid and compete for the business from a new potential customer.
The process is quite simple, by selecting their desired insurance coverage type and entering in their postal code, the site will provide a list of the best providers in their area. In that list, consumers are free to compare quotes from the companies listed knowing that they are pre-approved and catered to their location.
InsuranceSearchUSA.com is a privately run site with no relationship to any of the providers listed so the rates given are provided with no favoritism whatsoever.
"Our visitors are very happy with the service because instead of doing a google search where the results are mixed and not necessarily directed to their needs through our advanced filtering they can find the cheapest insurance quotes all in one place." reported a representative of the site.
A much welcome approach to searching for insurance online. No hassles or pressure of working with brokers over the phone or in person, consumers are free to use the site whenever they choose knowing that they are getting the best deals with trusted companies. No obligations to sign up and they are free to use the site as they please.
To try the new service today visit InsuranceSearchUSA.com, savings in the hundreds and that favorite morning brew may be a few clicks away.