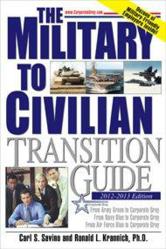 The book has assisted countless military members
Fairfax Station, VA (PRWEB) September 20, 2012
Members of the Armed Forces who will be leaving active duty military service during the next 12 months have a new resource: the 2012-13 edition of "The Military to Civilian Transition Guide" by Carl S. Savino and Ronald L. Krannich. Corporate Gray, a veteran-owned small business in Northern Virginia, shipped 243,810 free transition guides to 233 U.S. military bases around the world this month, bringing the total number of free books distributed since 1997 to more than 3 million.
In an effort to help all transitioning military members find civilian employment, Corporate Gray obtains advertising support from many sponsors, including military-friendly employers who want to hire veterans to join their companies. This advertising sponsorship allows Corporate Gray to distribute more than 200,000 books each year to everyone leaving the Army, Navy, Air Force, Marine Corps, and Coast Guard - at no cost to the veterans or to the military services.
At a time of tight budgets, military transition specialists appreciate this free resource. While the military provides good career transition programs, Transition Assistance Program Coordinators are grateful for the additional support: "The book has assisted countless military members unable to attend a Transition Assistance Program, as well as those who have attended the program." According to an Employment Readiness Program Manager, "The value added is that it is current, concise, user friendly, and provides ample information that is not normally found in other resources."
The military-friendly sponsors that contributed their support include employers, schools, agencies, and others. This year's sponsors are Amazon, ARAMARK, Art Institutes, Ashford University, Averitt Express, Chenega Technology Services, Cleveland Brothers Equipment, DDL Omni Engineering, Department of Veterans Affairs, DeVry University, Engility, Hire Vet Talent, Hewlett-Packard, Kaplan College, Lockheed Martin, MCR LLC, National Security Agency, Nuclear Regulatory Commission, PAE Group, Robert Half International, Sentara, Shell, SkillSource, Snap-on Tools, Sodexo, Southern Company, State Farm Insurance, Uniformed Services Benefit Association, and University of Phoenix.
Corporate Gray's primary mission is to assist transitioning military members, but it also assists spouses of military members and other members of the military community by hosting an online resume database and by holding military-friendly job fairs that are open to all. Its next Military-Friendly Job Fairs will be held in Springfield, Virginia, on September 21 and in Virginia Beach on October 24.
About Corporate Gray:
Competitive Edge Services, Inc., which does business as Corporate Gray, provides military-to-civilian career transition books, job fairs, and online services. Since 1997, Corporate Gray has distributed more than 3 million copies of its military-to-civilian transition books for free to everyone who has separated or retired from active duty. The company, based in Fairfax Station, Virginia, was founded by Carl S. Savino, a former Army officer and West Point graduate. More information is available online at http://www.CorporateGray.com