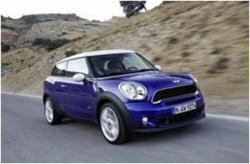 (PRWEB UK) 20 September 2012
The new MINI Paceman, is expected to turn heads when it finally launches early next year, especially company car owners.
Based on the MINI Countryman – that's the larger four-door MINI with four-wheel drive ability – the Paceman is a coupe version of the Countryman, but still with space for four adults.
With a steeply sloping rear roof, the new three-door MINI Paceman looks like a shrunken Range Rover Evoque.
And with prices starting at £18,970, the cost is shrunken too in comparison with the Evoque.
There will be four models available when the MINI Paceman goes on sale in March 2013.
MINI Cooper Paceman: petrol 1.6-litre 122bhp, 0-62mph time of 10.4 seconds, economy 47.1mpg, CO2 emissions 140 g/km, company car tax band 20%
MINI Cooper Paceman S: petrol 1.6-litre 184bhp, 0-62mph time of 7.5 seconds, economy 46.3mpg, CO2 emissions 143 g/km, company car tax band 20%
MINI Cooper D Paceman: diesel turbo 1.6-litre 112bhp, 0-62mph time of 10.8 seconds, economy 64.2mpg, CO2 emissions 115g/km, company car tax band 18%
MINI Cooper SD Paceman: diesel turbo 2.0-litre 143bhp, 0-62mph time of 9.2 seconds, economy 61.4mpg, CO2 emissions 122g/km, company car tax band 19%
MINI says the Paceman has been created to appeal to a new type of design-conscious customer – that will be most small
But with company car tax rates as low as 18%, we reckon business drivers will be wanting one of these as their next company car!
Optional all-wheel drive transmission will be available on the Paceman, and lowered sports suspension is standard – a more regular suspension and ride height are available as a no-cost option, says MINI.
All four launch MINI Paceman models will have a six-speed manual gearbox; a six-speed automatic with Steptronic function for manual control is an option.
A John Cooper Works Paceman model is also under development.
For more car news visit the Business Car Manager website http://www.businesscarmanager.co.uk