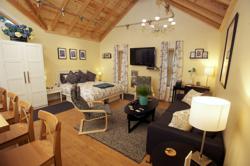 "My favorite feature of Tradhuset is its large deck, shaded by the branches of majestic oak trees. After a long day, it's so peaceful and relaxing." -- Vicki, property manager
Lindsborg, Kansas (PRWEB) September 25, 2012
Concertgoers, football fans and visitors to Salina in central Kansas have dozens of entertainment options this year. Instead of booking a generic motel room, visitors now have a brand new option -- Tradhuset, a "vacation rental" in downtown Lindsborg.
Kansas, Vince Gill, Kenny Rogers, Aaron Neville and many other artists will entertain audiences at the historic Stiefel Theatre. On October 19 and 20, Blues Masters at the Crossroads at Blue Heaven Studios will feature performances by headliner Shemekia Copeland and nearly a dozen blues legends. Kansas Collegiate Athletic Conference members Kansas Wesleyan, Bethany College and Sterling College will compete for dominance in football through November 10. Mannheim Steamroller rocks Christmas on December 18 at the Bicentennial Center.
Travelers to Salina may be growing tired of the area's spotty and generic motel chains. Visitors staying for a couple of nights or for a long weekend should consider staying at the brand new Tradhuset, located in downtown Lindsborg, less than 20 miles south of Salina, off interstate I-135.
Tradhuset, which is Swedish for "Treehouse," is a studio apartment on the second floor of a brand new carriage house. Upon arrival, visitors park their vehicle under the carport and enter Tradhuset with a security code unique to their stay. The studio apartment is nearly 600 square feet, so there is plenty of room for a couple or a family of four.
The combined living and sleeping area has a queen-sized bed and comfy sofa that opens into a full-size bed. The kitchen is fully equipped with almost everything imaginable, from a horse-shaped baking pan to a corkscrew. The bathroom has double sinks, a large tiled shower and heated floor. Clothes and towels are laundered with the full-sized washer and dryer. A high-definition television offerss over 200 channels on Cox cable and includes popular apps such as Netflix, HuluPlus and YouTube. High-speed wireless Internet service and all domestic phone calls are free.
Vicki, Tradhuset's property manager, says, "My favorite feature of Tradhuset is its large deck, shaded by the branches of majestic oak trees. After a long day, it's so peaceful and relaxing."
Since Lindsborg celebrates its Swedish heritage, Tradhuset is furnished, decorated and equipped with over 700 items from IKEA, a Swedish company that features Scandinavian modern-style furniture and accessories. From the wooden floor to the dishwasher; from the chandelier to the nightstands; from the wine glasses to the complimentary chocolate; nearly everything is sourced from IKEA.
Tradhuset generates its own electricity with solar panels mounted on its roof. This solar PV system offsets the power consumed by its Energy Star appliances, LED lighting, high-efficiency HVAC system and water heater.
Full-color photos of Tradhuset can be found on the websites listed below. For further questions, please call toll-free 855-TRAD-HUS or 855-872-3487.
trad-hus.com
vacationrentals.com/vacation-rentals/Lindsborg-Kansas.html