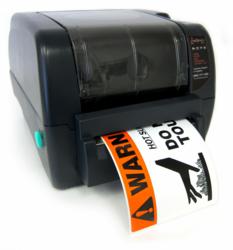 "Since our business is small and finances are tight, the rental program was great for us. We were able to print the labels we needed and returned the printer with no hassles."
Lake Oswego, OR (PRWEB) September 22, 2012
The LabelTac 4 PRO Industrial Labeling System is Creative Safety Supply's #1 rated industrial label printer for many safety programs including 5S, Lean and Arc Flash to name a few. All types of businesses from industrial to manufacturing to office environments can benefit from use of the LabelTac 4 PRO to produce heavy duty labels for marking hazardous and chemical products. By printing the labels in house will save time and money rather than ordering from an outside source and waiting for delivery of the labels.
Safety should be the number one concern for any business and by making sure potential hazardous or dangerous materials are labeled properly will decrease unnecessary accidents from happening. Which in turn will increase productivity, increase safety numbers and make more profit for the business owner and employees will feel satisfaction of knowing they are working in a safe environment. Making labels could not be any easier as the LabelTac 4 PRO ships with useful templates and symbols which allows for quick printing of labels right away. The LabelTac 4 PRO is not only easy and quick but it is also flexible by allowing connection to any Windows-based program such as Microsoft Office, OpenOffice and Excel to name a few. The printer also ships with the popular and incredibly easy-to-use Bartender label creation software if a Windows-based program is not available.
The LabelTac 4 PRO is also available through a rental program offered through Creative Safety Supply. Renting is a great idea for a business that requires printing of labels for one job or if printing labels is needed for only a short time. Once the project is finished, the printer can be sent back. As one small business owner commented, "Since our business is small and finances are tight, the rental program was great for us. We were able to print the labels we needed and returned the printer with no hassles."
To learn more about the LabelTac 4 PRO printer or other safety products, visit http://www.creativesafetysupply.com or call toll-free (866)777-1360 to speak to a professional representative.