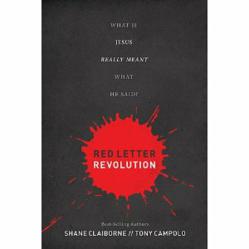 Philadelphia, PA (PRWEB) September 20, 2012
Dr. Tony Campolo '56 and Shane Claiborne '97, alumni of Eastern University, have co-authored "Red Letter Revolution: What if Jesus Really Meant What He Said?" published by Thomas Nelson.  In Red Letter Revolution, best-selling authors Shane Claiborne and Tony Campolo take on the hardest issues facing our world. They show that Jesus' example is relevant and revolutionary and call us back to a Christianity that looks like Him again. In this ambitious project, they mine the words of Jesus - the "red letters" of Scripture -asking the simple question, "What if we lived out the stuff He said?"
The publisher says, "Red Letter Revolution is about politics, but it's fresh. It's about theology, but it's real. It's about economics, but it's interesting. It's about Jesus, who longs to transform the world despite the embarrassing things His followers have done in His name."
Shane Claiborne is an author, Christian activist, speaker, and co-founder of The Simple Way. Shane writes and speaks extensively about peacemaking, social justice, and Jesus, and is the author of several books including The Irresistible Revolution and Jesus for President. Each year he speaks in a dozen countries and nearly every state in the United States. His work has been covered by Fox News, The Wall Street Journal, CNN and NPR.
Tony Campolo is professor emeritus of sociology at Eastern University, a best-selling author, a former faculty member at the University of Pennsylvania, and the founder and president of the Evangelical Association for the Promotion of Education. Tony speaks about 350 times a year in the United States and around the globe. He has been a media commentator for a wide variety of outlets, has written more than 35 books, and blogs regularly at http://www.redletterchristians.org. A few of his popular books includeIt's Friday but Sunday's Comin', Let Me Tell You a Story, and Following Jesus Without Embarrassing God.
Eastern University is a Philadelphia Christian university which enrolls about 4,400 students in its undergraduate, graduate and professional, Seminary, urban and international programs. All education at Eastern University integrates its core values of faith, reason and justice.