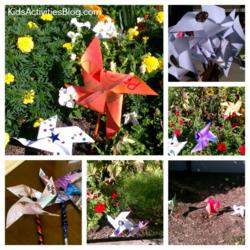 What message of World Peace do you want to pass along to your kiddos without confronting them with the uncomprehendible event of 9/11?
Dallas, Texas (PRWEB) September 20, 2012
World Peace for Kids is currently featured in the latest Kids Activities Blog to gently pass along the message of World Peace Day celebrated on September 21. Many parents are not ready to tell your youngsters about the happenings on 9/11, but participate on World Peace Day to ensure that children understand the message of World Peace and Happiness. There are several great ways to expand this message of world peace for kids on Kids Activities Blog.
The activity was inspired by moms who do want to promote world peace and happiness among their kids but not confront them with the comprehensible events surrounding World Peace Day. Kids Activities Blog has a great educational activity that you do together with kids of all ages: World Peace Day Pinwheels. While parents and teachers work with them, they can talk about the meaning of peace in your own home or around the world.The pinwheels can be made for the child's family garden or to pass out on World Peace Day to friends, relatives, neighbors or teachers. The message is for kids to get involved in thinking about the world in a larger way and how they can make an impact.
Promoting peaceful parenting is another hot topic on Kids Activities Blog this month. Inspiring tips on how to promote peace at home. The latest peaceful parenting tip is the Good Dear Jar. This easy and creative idea can help siblings to stop bickering and keep them on their tip toes to act kindly and be helpful. For each act of kindness that a family member performs, a bean will be put into a jar. Beans can be taken out when "unkind" actions have been done and added according to your own household rules. Suggestions on Kids Activities Blog help parents be creative when making up household rules. On a special day these beans will turn into jelly beans. Children love to be part of a surprise like this.
World Peace Day is approaching fast and Kids Activities Blog has creative suggestions to promote the message of World Peace and Happiness as well as the latest on peaceful parenting tips.