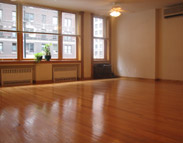 Pilates rocks! It's Thursday and I can still feel my Monday workout! Jana's down to earth attitude is refreshing and her sculpted physique is inspiring! She leads with a great mix of expertise, encouragement and humor. Lisa D. Personal Health Coach
New York, NY (PRWEB) September 25, 2012
CoreFitnessByJana, through the World Yoga Center studio, will be able to provide continuity to the over 50 clients who took advantage of the summer outdoor classes in Central Park as well as others looking for personalized, small Pilates classes on the Upper West Side.
Jana will be offering 4-6 Pilates and Pilates Based Body Sculpt classes per week at the Center with both morning and evening options. In addition, Jana continues to provide private individual and small group personal training and Pilates instruction, as well as her online workout videos at http://www.CoreFitnessByJana.com
The World Yoga Center is a beautiful light filled space with hard wood floors, dressing rooms, bathrooms, ceiling fans and all the necessary tools of the trade. The Center is conveniently located on 72nd in the heart of the Upper West Side and very near major subway and bus lines.
Those who've used the Center describe it as an inviting and peaceful yet energizing atmosphere. While Jana says she'll miss her "office" in Central Park, she feels the sunlight and hanging plants in the World Yoga Center will be a welcome bright spot away from the winter chill. CoreFitnessByJana then plans to resume Pilates In The Park outdoor classes in Spring of 2013.
About Jana and CoreFitnessByJana:
Certified Pilates Instructor and ACE Certified Personal Trainer Jana Sanford provides private individual and small group training, teaches group classes through her PilatesInThePark program and studios in Manhattan and also developed an online fitness site to provide effective workout options to anyone, anytime and anywhere.
CoreFitnessByJana.com offers online fitness workouts including Pilates, Body Sculpting, Stretching & Flexibility and Sport Conditioning. Daily, Monthly or Annual Membership options available.
The 15-20 minute exercise videos use just one's body weight (or add resistance props for increased intensity) and are designed to help one incorporate exercise conveniently into a daily schedule.