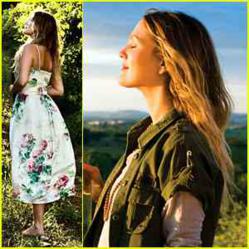 I can't wait until I have my children
Los Angeles, CA (PRWEB) September 19, 2012
Drew spoke about taking having children and taking a break from acting "I can't wait until I have my children," she confesses. "I love the idea that they don't have to do something that they have no interest in, that they can do something completely opposite if they want to. I will be so surprised if they don't want to do something involving food or wine or art, but I'll be OK with it. I just want to build fun, great things for my family."
She continues, "I want to do it all. I love film, but I also love wine, food and traveling. I would love to be a travel writer. I'd be so stoked."
Barrymore discusses her passion for wine, "I love wine..."I think it's nice to do what you really love in life, occupationally and recreationally. Right now, I'm getting to do the things I love and I'm so, so happy about it."
Regarding her hard work creating the label, "We went to Italy, we went to our vineyard, our bottling plants, we tried a lot of different wines." She continues, "I'm very leery of celebrity culture....I wanted to put it out there because wine is about tradition and family. Putting your name on something and having no idea how it came about if someone else did all the work--that's not me."
The article mentions her 2011 Pinot Grigio which is taken home a gold medal at the Le Challenge International du Vin in France. Barrymore is "still searching for [her] red, I don't want to put anything out that I don't feel a strong conviction about....Next, I'd like to make a nice, light Chianti to go with the Pinot."
About Haute Living: Haute Living produces a leading network of luxury publications currently serving New York, Miami, Los Angeles, San Francisco and Russia. Haute Living uniquely reaches into the hearts and minds of the most influential and elusive consumers in our country's most affluent destination.