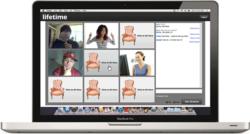 Lifetime.fm is the simplest group video chat ever conceived or built.
San Jose, CA (PRWEB) September 20, 2012
It is always a pleasure to meet our nears and dears in person. They can be friends or distant family. Sometimes, it can be difficult to meet in-person. In such cases, Group video chat can be the best alternative available. Lifetime.fm offers this alternative for free. It also allows for unlimited people participating in the chat.
Lifetime.fm can also be a very useful utility for musicians to connect with their fans or sports teams to interact with their friends or fans.
Companies like Skype allows group video chat with up to 3 people. If you are interested in talking to more friends or family at the same time, you may need to pay for the service. Additionally, other participants need to install the service on their computers and it can become a difficult affair.
Lifetime.fm makes it very easy to get together with distant connections. Only host needs to create an account and later other participants can join the video chat without even creating an account or downloading anything. Hosts will share an URL and others can easily join in. Additionally, the chat room can be locked with a numeric key for security and privacy.
Lifetime product is designed with users in mind. The host has complete control over the conversation. The host can mute, unmute or unseat a participant with just a click of a button.
Lifetime.fm is currently in private beta. If you're blogger or product reviewer feel free to reach us for an invitation - beta(at)lifetime(dot)fm