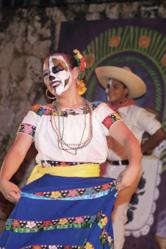 7TH Festival of Life and Death Traditions at Xcaret
XCARET, RIVIERA MAYA; QUINTANA ROO (PRWEB) September 21, 2012
The concept of life and death in the Pre-Hispanic Mayan world, clearly linked to the end and beginning of an Era during 2012, will be the central theme of this year´s activities at the 7th Festival of Life and Death Traditions at Xcaret, with a magnificent variety of theater, dance, music, culinary presentations and exhibits in a unique effort to spread and preserve the cultural legacy of Mexico in regards to the Day of the Dead and the Feast of All Souls´ traditions.
This year we proudly welcome singer Lila Downs to the Festival where she will present two gala concerts at the Gran Tlachco Theater, on November 1st and 2nd, entitled "K´eebanoób y Milagros" (K´eebanoób and Miracles). For more than a decade, Lila Downs has performed all over the world with her innovative and unique concept of traditional Mexican music and original creations mixed with blues, jazz, soul, African and even klezmer music (traditional music from the Ashkenazic Jews of Eastern Europe).
We will also be able to enjoy the Dzul Dance Company, directed by Javier Dzul, with their contemporary dance presentation "Forest of Kings", which is presented as a tribute to the Mayan culture. Since the company was created in 2003, Dzul has earned the applause of many, both in Mexico and the United States, particularly New York, as their seasons in Broadway are always a resounding success.
Singer Jaramar in turn will offer a musical presentation called "Cantos al Día y a la Noche" (Songs for Day and Night), with her message of renewal and the search for balance, very much in relation to the beginning of a new Era in the Mayan calendar.
Great musicians will grace our stage such as the string quartet "Ka´a Síijil", offering a suite concerto (chamber music) entitled "Altar de Muertos" (Altar for the Dead), directed by Gabriela Ortiz. We will also enjoy grupo K´aay with their pre-Hispanic style music playing more than 30 instruments and dedicated to the Mayan world, as well as a travelling band with characters from the Calakmul archaeological site in Campeche with its leading character "Garra de Jaguar" (Jaguar Claw).
Also inspired by the importance of the Calakmul archaeological site, there will be a music and dance show presented by the Aztlán Folkloric Ballet.
There will be other musical presentations by the Orquesta Jaranera and the Marimba. Also worth an important mention is the imposing presentation by grupo Xipetotec "The Game of Life and Death" in the Ball Game court.
As far as theater is concerned, the audience will be able to enjoy wonderful stage shows by Aziz Gual with his "Comic Epitaphs" where he combines his stage talent with poetry by Miguel Hernández, Jaime Sabines and Mario Benedetti. La Trouppe will be a great hit with young audiences with their play "When an Alebrije sings". Alejandra Díaz de Cossío will stage "Journey to Xibalbá, the dwelling of the dead" in a dramatized guided tour so the audience can journey to ancient Mayan underworld.
Regional Yucatan Theater will shine in the Festival due to the talent of Raúl Niño and his group with the play "2012, The Grim Reaper has arrived", an excellent expression of political satire. Marta de Juana will also be present with her play "A story about the dead told by the dead" on November 3rd and 4th in Playa del Carmen, Parque la Ceiba, as an extension of the Festival taking place this year. 20 Varos theater group will in turn present the play "Macario" by Bruno Traven.
"Recycled Death" presented by Los Caracoles, brings to stage a variety of children´s stories told to children and children at heart by a group of their peers. Apolonio Mondragón will grace the stage with his presence in "Legend of the Breast Tree".
Children and Young People Pavilion
The Children and Young People Pavilion includes activities for youngsters ages 3 and older. Workshops will be offered as varied as "Young souls and their parents", "Amaranth gods", "Sweet Skeletons", "Mayan Challenge: Brilliant Minds", "Storytellers", "Strange writing or just Different", "Stelae and Dignitaries", as well as "Attires and Makeup". There will also be an exhibit "The Dzonot and its Treasures" related to the ancient Mayan use of sinkholes in their rituals.
This space will also offer, among many other fun activities, a "Pre-Hispanic Jewelry" workshop, with the active participation of the young people from the Special Assistance Center (CAM), who have overcome visual and auditory disabilities by developing manual abilities and sharing them with other young people. The "Bones and Ceramic fragments" workshop, referring to the ancient Mayan funerary world, can also be found here.
It is important to point out that a huge part of the festival will be the presence of the Mayan communities of Quintana Roo, who attend proudly to present a variety of altars, traditional food, handcrafts and music to share them with all our visitors.
The activities program can be consulted in detail at:
http://www.festivaldevidaymuerte.com
For further information:
Iliana Rodríguez
Chief Communications Officer
irodriguez (at) experienciasxcaret (dot) com (dot) mx
Cel: 044 (998) 845-5644