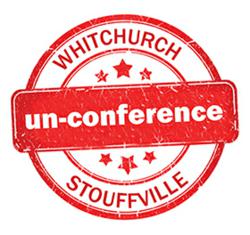 The unconference format sets a new standard for business conferences, through its unique approach to knowledge sharing that simultaneously acts as a networking forum.
Gormley, ON (PRWEB) September 20, 2012
An innovative group of public and private local partners that includes Canada's premier small business website, CanadaOne.com, will help small businesses tap into the knowledge of the crowd at an "unconference" taking place in Stouffville, ON.
The event will take place on October 15, the first day of Small Business Week in Canada, which is a week when companies and organizations celebrate the success of smaller Canadian companies.
Using the open-session conference concept popular in the tech community, the unconference is designed to help entrepreneurs and small businesses gather knowledge and network in a new way.
The agenda is created on the day of the event by participants, who suggest topics and then select the sessions that will run using a voting process. This is the perfect forum for capturing breaking issues and topics of concern that the businesses in attendance are dealing with in their companies. Sessions are interactive so in addition to helping each other learn about the topic of each session, they provide a unique networking opportunity.
"The business world is changing quickly and part of the new reality is that businesses need to filter through and understand an enormous amount of information," says Julie King, co-founder and editor of CanadaOne.com. "The unconference format is an ideal way for business owners to share what they know and learn from their peers, with networking fundamental to the process in a way that goes beyond the more traditional, superficial exchange of business cards."
While CanadaOne has helped promote business conferences and events across Canada for the past 15 years, this is the first conference where the company is participating as an organizer.
"We are thrilled to have the opportunity to help shape this conference based on the best of what we've seen in the business world over the past decade," says King. "We will connect people together, help them share their knowledge. When there is a gap in what the group knows, we have a strategy in place to continue the learning after the event."
The unconference will take place from 8:30 am – 2:30 pm on October 15, with plans to continue helping attendees when the day ends. Knowledge gaps that could not be addressed fully during the sessions will be identified in session recaps and will act as take-aways for further peer group discussions and seminars.
The unconference is being held as an N6 bridge event, which is a collaborative effort between a variety of local and regional partners. These include local organizations – Town of Whitchurch-Stouffville, Whitchurch-Stouffville Public Library, Whitchurch-Stouffville Chamber of Commerce, Downtown working group, and StouffvilleConnects.com – as well broader community partners that include the York Small Business Enterprise Centre (YSBEC) and Northern Six (N6) community partners in York Region, Ontario.
"We are particularly excited to be working with a variety of local partners to see this event take place," says King. "This unconference is a great example of how public and private sector organizations can work together."
Further information about the event is available through CanadaOne's Un-Conference page and registration is now open. Those interested in attending are encouraged to register early, as the last two N6 events sold out.