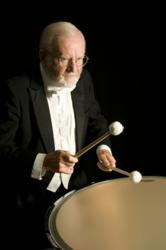 Dennis was one of the nicest guys that you can imagine.
Baltimore, Md. (PRWEB) September 19, 2012
The musicians and staff of the Baltimore Symphony Orchestra (BSO) mourn the loss of Dennis Kain, Principal Timpanist, who lost his battle with cancer on Saturday, September 15. A funeral service will be held on Thursday, September 20, 2012 at 2 p.m. at the Joseph Meyerhoff Symphony Hall.
Of Mr. Kain, Tim Smith of The Baltimore Sun wrote, "In the years that I got to hear him play, Mr. Kain invariably impressed with his sure technique and ability to coax myriad dynamic nuances from the timpani—not to mention his quiet charm and twinkling smile."
A native of New York, Dennis Kain began his timpani studies with the timpanist of the Staten Island Symphony. He then went on to earn his Bachelor's of Music degree from the prestigious Eastman School of Music, where he studied timpani and percussion with William Street. In addition, he studied with Vic Firth during four summers at Tanglewood and one year at the New England Conservatory. Before joining the Baltimore Symphony Orchestra in 1966, Mr. Kain was a percussionist with the San Antonio Symphony.
Members of the Baltimore Symphony Orchestra remember their friend:
David Coombs, Contrabassoon:
"Dennis was one of the nicest guys that you can imagine. He was the best timpanist I ever heard in my life. He lived for music. He would go home and listen to music all night, except when he was going to baseball games. He was into minor league baseball games. He always had a smile on his face."
Laura Sokoloff, Piccolo:
"In the more than 40 years I worked with Dennis, I can count on my fingers the times any conductor asked him to play something differently. That is how excellent and professional he was—always prepared with a complete understanding of how he needed to play and why. Our greatest luxury was relying on his perfect sense of rhythm for all these years. Dennis was always a vital part of the 'Baltimore Symphony sound!"
Christopher Williams, Principal Percussion:
"He knew the music, his own part and how everything was supposed to fit together. His sound on timpani always blended with whatever music we were playing, yet when he had to he could be a very dynamic player who could lead the entire orchestra. His model of consistency at such a high level always amazed me—day to day, year to year. He was the consummate professional and musician we all strive to be."
Christopher Wolfe, Assistant Principal Clarinet:
"Dennis was the consummate symphonic musician. His commitment and dedication to the orchestra were unsurpassed for almost fifty years. His timpani playing on many of the BSO recordings have become the benchmark for excellence and are sought after by many musicians around the country. He was admired by everyone and will be sorely missed by all."
###