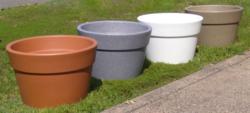 Manchester, CT (PRWEB) September 21, 2012
Dawn Enterprises, leading manufacturer of outdoor site furnishings, claims to have the best self-watering planter on the market at the lowest price. How is this possible? Dawn has been working hard to find ways to reduce the manufacturing costs of their latest self-watering planter and pass the saving along to their customers. They are glad to announce a significant price reduction on the innovative Aqueous Planter.
Due to the popularity of their Oasis Self-Watering Planter, Dawn set out to improve the planter's design and functionality with a starting price of only $140. Dawn Enterprises new "Aqueous" self-watering planter looks terrific and is the perfect low-maintenance solution for any planting project indoors or outdoors. Save big $$$ on shipping costs without sacrificing that upscale, permanent appearance. This planter ships at a weight of 13 pounds, yet weighs 300 pounds after planting! Create an attractive perimeter to your property without worrying about a huge freight bill; or losing your new planter to inclement weather. Homeowners, property managers, architects, engineers, landscapers, restaurants, convenience stores, retailers, etc. will love the variety of colors offered.
By now you are thinking the Aqueous is perfect, but hang on...it's "green" and eco-friendly too! Each time the plant is watered by rain or hand, the built-in reservoir captures every bit your plant/s don't need and holds it; effectively reducing overall water consumption. Also, all raw material used in manufacturing is 100% recyclable #4 HDPE. For our darker color options, such as black and charcoal, we utilize reground "throw-away" material from all our other colors to achieve zero waste.
For more information on the Aqueous Self-Watering Planter please visit http://www.godawn.com or call one of their friendly sales representatives at 800-262-3296. Dawn Enterprises also offers fiberglass and concrete planters as well as benches, tables, bollards, trash receptacles and more.