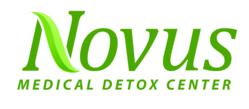 Unfortunately, our patients coming in are, more often than not, on methadone prescribed by their doctor to get off of another drug
New Port Richey, FL (PRWEB) September 24, 2012
While methadone accounts for only 2 percent of painkiller prescriptions in the United States, the drug is behind more than 30 percent of prescription painkiller overdose deaths, the Centers for Disease Control and Prevention (CDC) recently announced (1). Novus Medical Detox may be the only detox facility that can handle the high-dose cases before it's too late, due to their specific proprietary protocols for reducing or eliminating the painful, and sometimes deadly, withdrawal process from methadone abuse.
Although commonly given to treat withdrawal symptoms from other drugs, health officials say most of the methadone overdose deaths are people who take it for pain - not heroin or drug addicts (1). The problem is that the withdrawal symptoms from methadone are intense and can be potentially fatal including nausea, vomiting, fatigue, and other flu-like symptoms.
Novus Medical Detox has more than 90% completion rate of people who start their medical detox at the facility.Unlike many detox facilities, Novus pays particular attention to strengthening their patient's bodies through a proprietary IV vitamin mix that is tailored to each individual in order to make the detox process as painless as possible. The vitamin cocktail is an advanced medical finding that allows Novus to handle the toughest of methadone cases.
While "getting clean" is the primary goal, patients say they experience newfound respect and care for their total health, making them physically, emotionally and mentally stronger. They are then more capable of completing successful rehab programs, returning home and getting back to normal lives.
"Unfortunately, our patients coming in are, more often than not, on methadone prescribed by their doctor to get off of another drug," comments Kirk Burness, Director of Novus Medical Detox. "The [Novus] difference is that we get their bodies back to normal, without putting them on other addictive drugs."
While "cold turkey" withdrawals have a success rate of less than 5%, Novus' detoxification programs have a high success rate, due to the medical team trained on how to keep patients from getting sick during the withdrawal process, leading to many completing detox in less than 2 weeks. Once patients have completed a detox program and gotten the methadone out of their system, they can then move on to rehab and support programs, if warranted. Novus helps patients take that first step toward reclaiming their lives from drugs, and provides the nurturing, supportive environment they need to do so.
•Each patient is treated individually using a combination of natural supplements, nutritious meals and extensive use of nutrient-enriched IV treatments
•Patients have 24/7 access to nursing care and withdrawal specialist assistance
•Patients are given instructions on how to continue with vitamins and helped to select an after-care program
To learn more about the Novus Medical Detox Center and its methadone addiction and detox programs, visit http://www.NovusDetox.com.
About Novus Medical Detox Center
Novus Medical Detox Center offers safe, effective alcohol and drug treatment programs in a home-like residential setting. Located on 3.25 tree-lined acres in New Port Richey, Fla., Novus is licensed by the Florida Department of Children and Families as an in-patient medical detox facility. Novus is known for minimizing the discomfort of withdrawal from prescription medication, drugs and alcohol by creating a customized detox program for each patient, incorporating medication, natural supplements and fluid replenishment – putting dignity and humanity back into drug detoxification. Patients have 24/7 medical supervision, including round-the-clock nursing care and access to a withdrawal specialist, and enjoy comfortable private or shared rooms with a telephone, television, DVD player and high-speed Internet access. For more information on Novus Medical Detox Center, visit http://www.NovusDetox.com.
(1)CBSnews.com "Methadone to Blame for One Third of U.S Prescription Painkiller Deaths. July 4, 2012. http://www.cbsnews.com/8301-504763_162-57466363-10391704/methadone-to-blame-for-one-third-of-u.s-prescription-painkiller-deaths-cdc-says