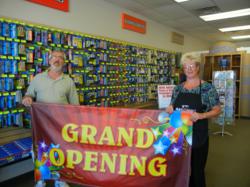 Green Bay, WI (PRWEB) September 22, 2012
Mail Express locally owned and operated by Dave and Laurie Kuik of Green Bay, celebrated its grand opening on August 11, 2012. It is located at 2465 Lineville Rd. Green Bay, WI in the Piggly Wiggly shopping center. Dave and Laurie always dreamed of owning their own mail box store and made it happen with the help of their business development partner, Mail Box Store Developers.
According to Dave and Laurie Kuik, some of the services will include affordable national and international shipping of items of any size, packaging, full color copies, key duplication, passport and ID photos, computer time rentals, internet access, business cards and letterheads, and mail box rentals. Along with offering the full range of mail box store services Mail Express carries shipping supplies, corrugated boxes, packaging supplies, bubble wrap, tape, loose fill, shipping labels, cushioned mailers, decorated boxes, and other shipping essentials. It will also have a full range of offices supplies and other convenience items like greeting cards.
Dave and Laurie Kuik were impressed with how quickly their goals became a reality with their business development partner. All of the financing they needed was secured with the help of Mail Box Store Developers financing team, the realty team secured a busy location which included anchor stores in the area, and negotiated a very favorable lease for the area. The store was also outfitted through this service with quality shelving, signage, and other essential mail box store items. Dave and Laurie went through Mail Box Store Developer's comprehensive business training program so that when it was time to open they were knowledgeable of all areas of their business. A supplier network available through Mail Box Store Developers lets the independent owners stay stocked with precisely what their local community needs for prices even big box wholesalers often cannot secure. One of the most important services, according to the Dave and Laurie, is the ongoing training and ongoing marketing and advertising support, which remains available for the lifetime of their business. They expressed excitement that all of this was available for such a low price and absolutely no franchise fees and none of the franchise rules since they are 100% in control.
Mail Express is located at 2465 Lineville Rd. Green Bay, WI in the Piggly Wiggly shopping center. It is conveniently located for the local community with plenty of parking according to Dave and Laurie Kuik. It is one of the only full service mail box stores in the area, providing an essential service to the community. Hours will be 8 a.m. to 6 p.m. Monday thru Friday and from 8 a.m. to 12 p.m. on Saturday. Mail Express is now open for business.
Discount Retail Store Services is a business development company helping entrepreneurs start a business by covering all of the core tasks including site location, lease negotiation, financing, build-out, business training, new store oversight, and ongoing wholesale support and marketing support. They have opened nearly 3000 independently owned stores to-date and specialize in six business models including dollar stores, clothing stores, teen stores, party stores, mail box stores, and fitness centers. Find out about upcoming news on Facebook.