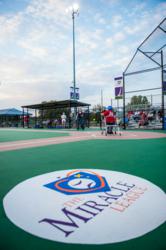 Delano, Minn. (PRWEB) September 25, 2012
The Miracle League of North Alabama, located in Huntsville, celebrated the grand opening of its baseball complex at Braham Spring Park on Saturday, Aug. 25. In addition to completing the accessible baseball field, which is ready for the 165 kids and adults with special needs who are signed up to play baseball this fall, the complex is home to a truly inclusive playground and a one-of-a-kind concrete statue of Homer, the Miracle League's mascot.
Landscape Structures, the Delano, Minn.-based commercial playground equipment manufacturer, was involved in each main component of the Miracle League complex. The accessible baseball field was created using PebbleFlex® safety surfacing. The Huntsville project is the first Miracle League field that was developed using PebbleFlex, and it features custom color blends and graphics including the Miracle League logo.
In addition to the accessible baseball field, the Everybody Can Play playground also opened. The playground is an inclusive PlayBooster® Vibe™ play structure in new colors from Landscape Structures—denim, vanilla and tangerine. Many multi-sensory playground components were included in the design like the Rollerslide, Sensory Play Center®, Cozy Dome®, OmniSpin® spinner and Oodle Swing®. To provide equal access to the playground equipment, PebbleFlex safety surfacing, with custom color blends that match the nearby baseball field.
Unique to the Miracle League of North Alabama's complex is the concrete statue of Homer. The statue, constructed of Glass Fiber Reinforced Concrete (GFRC), is completely custom designed and was hand-painted by Landscape Structures' artists. Homer is positioned behind home plate, and provides a distinctive photo opportunity for visitors to the baseball complex.
The grand opening event welcomed nearly 200 people from Huntsville and surrounding communities. People in attendance learned about the history of The Miracle League Association, the national organization that designs and constructs custom baseball fields for children with mental and/or physical challenges, from Executive Director Diane Alford. Additionally, the mayor of Huntsville, after being passed through city vote, named and dedicated the field Johnny Franklin Field, after Johnny Franklin, North Alabama's league director, the league developer for the national office and the driving force behind the project in Huntsville.
Since 1971, Landscape Structures Inc. has been the leading commercial play equipment manufacturer in the world. The employee-owned company is committed to making the world a better place with active children thriving in leading communities year after year, generation after generation. Landscape Structures encourages outdoor play that develops healthy kids and a sustainable world by creating innovative products that are environmentally responsible. As a leader in inclusive play, Landscape Structures is committed to designing truly inclusive playgrounds that provide places where children of all abilities can play, learn and grow together. The company's mission from day one has been to enhance children's lives by fostering and creating inspiring play experiences while honoring the environment.