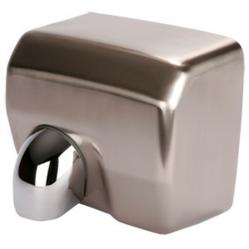 (PRWEB UK) 20 September 2012
The most common feature in public restrooms and washrooms is fast changing with the introduction of hand dryer uk – paper towels. The extensive studies conducted on the usage of paper towels in washrooms reveal they leave a greater impact on environment. Handdryer.co.uk with its new range of energy efficient electric hand dryers has laid down a new benchmark to reduce the usage of paper towels in washrooms. The automatic electric hand dryers uk come with the distinctive feature. These dryers automatically activate when the user places hands below the nozzle. This feature keeps the machine dry and moisture-free.
Revealing more about energy efficient hand dryers, the Senior Spokesperson says, "The new range of hand driers on http://www.handdryer.co.uk comes with the feature of less energy consumption. It works two times faster than others hand dryers in the same category. They are good for health too, as they have an exceptional coating titled 'anti-microbial', which prevents germ build-up post using them. Some of the models have a unique nozzle attached that makes it easy for drying both face and hands, especially during monsoon season. These models even proof the machine from vandalism through locks and wrenches."
A lesser known fact is that paper towels are manufactured using product of trees, which is ultimately reducing their number. The new range of electric hand dryers uk by Handdryer.co.uk is uniquely designed for environmental concerns. The exceptional hand drying feature of electric hand dryer churns out clean air to dry hands in a matter of just few seconds. This feature ultimately utilizes much less energy, thus saving its consumption. In comparison to towels, there is no regular transportation of hand driers, saving fuel for the society. They are installed once and last for years. Further, unlike paper tissues, hand driers do not require disposal post every usage.
The Senior Spokesperson continues, "The new range makes much less noise. Their noise-less operation have made them the first choice amidst other hand dryers. The manufacturing process of paper towels requires the usage of fossil fuels, which is additionally harmful for the environment. We at Handdryer.co.uk care for the environment. We strive to find such products and make it available for our concerned consumers."
For more information, visit http://www.handdryer.co.uk
About Handdryer.co.uk
Handdryer.co.uk is a part of CNM Online Group and offers a wide range of products including Hand Dryers, paper towel dispensers, soap dispensers, sanitary bins, air fresheners, etc. of a variety of brands.