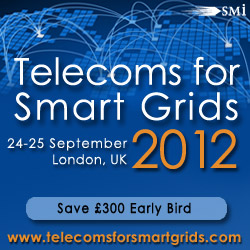 London (PRWEB UK) 20 September 2012
Taking place next Monday 24th and Tuesday 25th September is the industry leading event on Telecoms for Smart Grids. The two day conference will provide attendees with presentation and case studies from the DECC, leading UK and European Utilities as well as key communication Solution Providers on their challenges, barriers and future strategies to realise the future communications infrastructure for the UK and Europe.
PLUS on the 26th September Frost and Sullivan will be running a half day post-conference workshops on: Demystifying the ICT Opportunities in Utilities.
Meet Representatives from the Following Organisations:
Abodata, Accenture, Airwave Solutions, Arqiva, Avanti Communications Group, Bdew, Billion UK Limited, Bouygues Corporation, British Gas, Cable Wireless, Convergent Networks, Department of Energy and Climate Change, Deutsche Telekom, E.ON New Build & Technology, Echelon Energy and Utility, Eco Island, EDF Energy, EDP Distribuicao, EDSO, Elexon, Enel Distribuzione Sp A, Enexis, EON, EON Energy Research Center, ERDF, ESB, EU Commission, Frost and Sullivan, Hewlett Packard, Hughes Network Systems, Imtech Traffic & Infra UK & IRL, Inmarsat, kWantera, Landis+Gyr, M2Ocity, MacroVision Creative Software, Mott Macdonald, Npower, Orange Business Services, Pike Research UK, RAD Data Communications, RWE AG, Siemens Energy Services, Signalhorn GmbH, Silver Spring Networks, Smart Reach, SmartGrid GB, Symantec Deutchland Gmbh, TEO LT, AB, UK Power Networks, University of Udine, Veolia Water, VERBUND AG and Vodafone
>> For further information visit: http://www.telecomsforsmartgrids.com or contact Alex Williamson on +44 (0) 207 827 6115.
----------------------------------ENDS-----------------------------------
About SMi Group: The SMi Group is a highly Professional, Independent and Global event producing company that specialises in Business to Business Conferences, Workshops and Masterclasses and online Communities. We create and deliver events in Defence, Security, Energy, Utilities, Finance and Pharmaceutical industries. Our aim is to provide you with the Highest Quality Events in Defence, Security, Energy, Utilities, Finance and Pharmaceutical sectors, which are timely, relevant and important to you and your company!
We are Experts in knowing Experts and have been bringing you this Expertise since 1993!