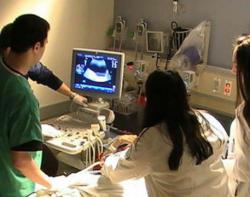 Stamford, CT (PRWEB) September 25, 2012
The Institute of Allied Medical Professionals (IAMP), a cutting edge institute in the field of sonography, has added two new programs to further meet the demand for highly qualified healthcare professionals. The new, specialized programs (in the fields of vascular sonography and cardiac sonography) are designed to prepare a new generation of sonographers to detect some of the most deadly and debilitating diseases and illnesses that plague the United States. These new programs are expected to more than prepare students for the demands of their ever growing field.
Heart and vascular health are essential aspects of quality of life that should appeal to every American. Heart attacks and strokes are the first and third leading causes of death in the United States (respectively), and can be highly preventable if the certain indicators are identified early on. A major part of early detection is skillful mapping through vascular and cardiac sonography; however, there are simply not enough skilled sonographers to meet the current demand.
The healthcare industry is one of the few industries in the United States that is all but assured growth in the next ten years. The aging baby boomer population has created a glut of patients and a refocusing of healthcare toward preventative means. This will require accurate diagnostics, and a huge workforce of highly competent and specialized Sonography professionals.
IAMP's cardiac ultrasound and vascular ultrasound classes are designed to train the newest generation of ultrasound professionals in the most advanced techniques and technologies. No other school offers the thorough cardiac & vascular ultrasound courses taught by highly experienced instructors that IAMP affords their students. IAMP cardiac and vascular sonography courses are taught by sonography professionals with over ten years of diagnostic testing experience, and use all the tools necessary to assist their students in cultivating a knowledgeable, profitable, and rewarding career as a sonographer.
IAMP has been on the cutting edge of educating new, active generations of sonographers and health care professionals since the school's beginnings in 1974. With the introduction of the Vascular Medical Sonography and Cardiac Medical Sonography and Online Diagnostic Medical Sonography programs, IAMP.edu offers some of the most comprehensive sonography programs in the country. To learn more about the extensive sonography programs, as well as registering for online diagnostic medical ultrasound, vascular and cardiac ultrasound courses please refer to IAMP's at http://www.IAMP.edu