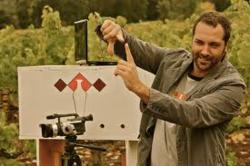 Napa Valley, CA (PRWEB) September 20, 2012
The Napa Valley Vintners Association presents Harvest Live 2012, the live and interactive chronicle of the busiest and most exciting time of year in Napa Valley. In their fifth year of production, Titus Vineyards' Christophe Smith and David Gowdy of Dirt on the Vine will pair up with Randy Hall of VOM Productions to unveil what is usually off limits to the general public.
Harvest is the busiest season for vintners in wine country. Farmers, winemakers, cellar hands, and interns are working around the clock in the fields, the crushpad, and the winery to perfect their brand. Curious oenophiles pour into Napa Valley in hopes of catching a glimpse of the magic of harvest, but what happens behind the scenes usually remains a mystery as visitors only get to see a shell of the harvest machine.
Smith leverages new media and technology to create an untethered live look at harvest with winery principles on hand to answer questions. Harvest Live is the first of its kind allowing the vintners to interact with their fans completely behind the scenes where no tour would possibly take their visitors. Harvest Live 2012 allows the viewer to ask questions over the ustream social stream, Twitter and with hashtag #HL12. Any mobile device can simply download the ustream viewer app to watch and interact.
With what might be the vintage of the decade, the Napa Valley Vintners Association and Smith will span across five unique AVA's in five days including the first harvest in the newly approved AVA Coombsville. Harvest Live 2012 begins on Monday, September 24, 2012 twice a day at 9am PST and at 2pm PST. Schedules will be posted in full detail as well as any possible changes on http://www.napavintners.com/harvest/ and http://www.ustream.tv/harvestlive.
Behind the scenes grape crushing action straight to your computer or mobile device, Harvest Live 2012 gives viewers the ability observe and interact with the rock stars of the wine industry.
Mon 9/24/12 - Trinchero Family Estates - St Helena AVA
Tue 9/25/12 - Newton Vineyard - Spring Mountain AVA
Wed 9/26/12 - St Supery Vineyards and Winery - Rutherford AVA
Thu 9/27/12 - Cuvaison Estate Wines - Carneros AVA
Fri 9/28/12 - Palmaz Vineyards - Coombsville AVA
Photo by Ashley Teplin