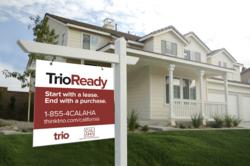 Trio provides a third financing option in addition to traditional leasing or outright purchase.
Madera, CA (PRWEB) September 21, 2012
For 50 workforce families in Madera County, the path to homeownership is open again.
In an innovative transitional homeownership program, the California Affordable Housing Agency (CalAHA) is partnering with Cascadia Equity Leasing to offer up to 50 homes for lease with the option to purchase. The homes will be acquired for the program through an agency sponsored municipal bond issuance.
"The economic downturn and housing crisis have left many in our communities without a path to homeownership," said Ed Mayer, President and Chair of the CalAHA. "Through the Trio Own Option lease program, many will find access to homeownership available once again."
The $7,100,000 Taxable Municipal Housing Revenue Bonds are being offered to investors by the California Affordable Housing Agency. The bonds are Community Reinvestment Act credit eligible, have a 7-year term with an anticipated 4-5 year average life, are non-rated, and do not require subsidies from federal or state agencies.
Cascadia and CalAHA, in cooperation with the Housing Authority of the City of Madera, will jointly identify, approve and purchase homes that meet specific criteria, including size, condition, affordability and geography (Madera County).
Cascadia will market the program to potential Madera County homeowners, and underwrite their ability to qualify. Since the home acquisition criteria include affordability and there is no up-front purchase down payment, the program broadly targets workforce families.
With future homeowners in place, Cascadia and CalAHA will jointly manage the lease and property until it is purchased by the lessee or re-leased.
According to Mayer, "The implementation of this program in Madera will help stabilize community neighborhoods from continued high rental turnover, revive stagnant sales, and help support property values from further erosion. The program increases liquidity in distressed single-family home markets, because it provides a third financing option in addition to traditional leasing or outright purchase."
The Madera housing effort is the first in a series of planned CalAHA programs involving Trio Own Option leases. The Regional Housing Authorities of Sutter and Nevada Counties are scheduled to launch later this year. The future scope of the program will expand to meet the demand of each county's housing needs.
California Affordable Housing Agency is comprised of 16 member agencies. The purpose of the Agency is to preserve and increase affordable and workforce housing through acquisition, development, rehabilitation, and financing activities.
Cascadia Equity Leasing, LLC, a private financial services company, is active in creating and implementing complete investment and lease-servicing programs for the residential real estate industry. The Trio Own Option residential leasing program is based upon the market-proven automobile leasing model, and is designed to help facilitate the transition to homeownership.
For more information about the bond issuance or the Trio program in general, please contact Patrick Howard, Managing Director of Capital Markets for Cascadia at 425-269-1110, or patrick.howard (at) cascadialeasing (dot) com