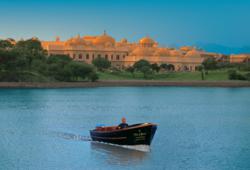 Toronto, ON (PRWEB) September 21, 2012
Since 1966, Butterfield & Robinson has been on the cutting edge of innovation as the world's premier provider of biking and walking trips, and its 2013 trip collection has travellers buzzing already. In line with current trends in luxury travel toward authenticity, new experiences and exclusivity, the B&R 2013 collection was created to provide travellers with more mind-boggling vistas and undiscovered back alley tavernas to choose from.
"Whether biking in India, Morocco or Indochina; even walking the Amalfi Coast, our new 2013 trips set the stage for the magical, ineffable -the moments of discovery-and self-discovery-that travellers will never, ever forget."
—George Butterfield, Founder, Butterfield & Robinson
NEW SIGNATURE B&R TRIPS for 2013
India Biking From US$7,695 per person; 8 Days; Departs: Dec/Jan/Oct/Nov
Experience the many facets of Rajasthan where the biking is through farmland and villages, colourful roads, mustard fields, desert flats and extravagant City Palace of Udaipur. Hotels range from former hunting lodges to modern boutique hotels and the award-winning Oberoi Udaivilas.
Indochina Biking From US$7,995 per person; 8 days; Departs: Apr/Oct/Nov
Combining three countries, the new Indochina Biking offers a grand introduction to Southeast Asia. Ancient Siem Reap in Cambodia, Laos' colonial Luang Prabang and famed limestone islands of Ha Long Bay in Vietnam. Siem Reap is B&R's jumping-off point to explore the ancient Khmer temples of Angkor, Laos offers a UNESCO-protected city, colonial architecture, a Buddhist legacy and miles of Mekong-side riding. See Ha Long Bay's famed limestone islands rise magically from the water's surface.
Japan Biking From US$9,495 per person; 8 days; Departs: May/Sep/Oct
The B&R Japan Biking trip is back due to popular demand. The spectacular cycling and stunning scenery of the Noto Peninsula will take travellers along coastal roads, past shrines and introduce them to the rich culture of this region. Traditional ryokans (inns) offer delicious local cuisine and relaxing hot springs for aching muscles. The trip finishes in the historic town of Kyoto where you will enjoy a traditional final night feast.
Myanmar Walking From US$6,995 per person; 8 days; Departs: Jan/Feb
Myanmar is truly without compare yet largely remains an enigma in the minds of most. B&R has made every effort to establish strong ties to the country's leading hotels while developing local connections; this trip is dedicated to revealing the mysteries and wonders that have defined this region for centuries. Travel from the famed Inle Lake and onto the ancient capital of Mandalay in the centre of the country to the astonishing sight of Bagan.
Tuscany & Umbria Walking From US$4,995 per person; 5 days; Departs: May/Jun/Jul/Sep/Oct
B&R has taken Tuscany and paired it with its lesser-known, albeit charming neighbor, for a marriage made in heaven. Stay in Bevagna, in the heart of Umbrian wine country, visit Assisi's famous basilica, and stroll picturesque Cortona.
NEW B&R BISTRO TRIPS for 2013
Bistro trips offer more independence (travellers are on their own more for meals), and the hotels tend to be 3 or 4-stars instead of off-the-chart. But the heart of every one is exactly the same as B&R's marquee trips-same incredible routes, events, insider access and, of course, B&R guides.
Amalfi Coast Bistro Walking From US$5,995 per person; 5 days; Departs: May/Sep/Oct
For those who prefer fewer bells and whistles, B&R offers this Bistro trip, which allows travellers to stroll coastal mountainside and woodland paths. Visit the stunning hillside towns of Capri, Positano and Ravello and see the coast as it was meant to be seen - from the water.
Ireland Bistro Biking From US$4,395 per person; 6 days; Departs: Jul/Aug
Biking the West Coast of Ireland into the heart of Connemara into Joyce Country, and north to County Mayo you will enjoy the comfortable luxury of fishing lodges, country pubs, roaring fires and of course, a pint at the end of a long ride.
Morocco Bistro Biking From US$3,995 per person; 6 days; Departs: Mar/Apr/Oct/Nov
The idea of a B&R expedition was born in Morocco in the late 90s; reminiscent of ancient caravans travelling through the desert. Since then B&R has taken hundreds of travelers along the roads of this beguiling country. This trip includes the best of Morocco: magical Marrakech, Berber villages, stunning oases, fabulous food, a Kasbah hotel, the High Atlas Mountains and an unforgettable stay in a Riad in the magical city of Essaouira.
NEW B&R FAMILY TRIPS for 2013
Morocco Family Biking From US$3,995 per person; 6 days; Departs: Mar
On this Family trip, experience the best of Morocco: magical Marrakech with snake charmers and donkey carts, Berber villages and mint tea with the locals, oases, camel rides, kite surfing, a ropes course, fabulous food, the High Atlas Mountains, and an unforgettable stay in the magical city of Essaouira.
Vienna to Prague Family Biking From US$4,495 per person; 5 days; Departs: Jun/Jul/Aug
Bike along the Danube, cruise castled Bohemian countryside; enjoy Czech hospitality, goulash, Pilsner and the fairytale red-roofed town of Cesky Krumlov. For the kids: all that (minus the Pilsner), plus falconry!
For more on these and other Butterfield & Robinson trips please visit us at butterfield.com
Butterfield & Robinson offers innovative itineraries worldwide. Its motto since 1966 remains "Slow down to see the world." Imaginative trip design, exquisite service and a tireless pursuit of the world's most fascinating places continue to make B&R a leader in luxury active travel.
For images or more information contact Kathy Stewart, Media Relations
1-800-678-1147 x442 kathy.stewart(at)butterfield(dot)com