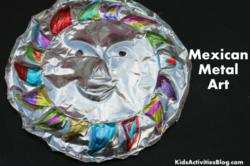 Celebrate Hispanic Heritage Month with Mexican inspired tin foil art for all ages!
Dallas, Texas (PRWEB) September 21, 2012
Hispanic Heritage Month runs from September 15 until October 15. Planning some Hispanic Heritage Month activities for kids? Kids Activities Blog has the latest Mexican Art inspired activities for kids. Forget the plain white paper. Tin Foil is the latest medium that will inspire even the smallest artist. But do not forget the older ones. Siblings in various age groups will enjoy this Mexican Art for kids.
Have you ever seen the Mexican Metal Tooling Art technique? The process of working a rounded tool on the back side of soft metal to create a beautiful piece of raised Mexican art is called Repujado. To create cool Mexican art that all age kids will enjoy, one does not have to go out and buy supplies. Simply look around at home and find a foil baking pan or think foil, some permanent markers, skewers or thin paint brushes, and a newspaper and be ready to start the project. Kids Activities Blog shows this and other easy and cheap Hispanic Heritage Month activities for kids.
A fun little fact to know: Many people think that Mexico's Independence Day is actually Cinco de Mayo. But it is not. Mexico's Independence is celebrated on September 16. Cinco de Mayo is a Mexican American holiday. Cinco de Mayo with kids is another hot topic on Kids Activities Blog. A fun list of mom inspired activities that one will love to do with their kids. How about some maracas, brightly colored flowers, pinatas, and sombreros to spice up the Mexican inspired educational games?
Kids Activities Blog celebrates Hispanic Heritage Month by embracing the latest what moms have to say and do with their kiddos. Come and get inspired.