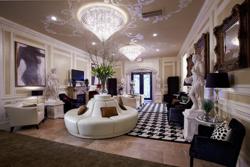 McHugh Plastic Surgery creates the first Cosmetic Beautyplex in The Woodlands, Texas
The Woodlands, Texas (PRWEB) September 20, 2012
With more than 25 years of experience and thousands of satisfied clients from around the world, Dr. Thomas P. McHugh, a skilled plastic surgeon, has a passion for perfection in his work. His unique approach to cosmetic surgery combines skillfully applied expertise, an artistic touch and sincere compassion for his patients.
Dr. McHugh and his experienced staff take every possible measure to ensure patient comfort, confidence and well-being from the moment each client walks into his office. A thorough consultation provides the opportunity to ask questions, voice concerns and learn more about the processes involved with each surgical procedure and non-surgical procedure alike.
Dr. McHugh's comprehensive menu of services and procedures includes everything women and men of various ages need to achieve a more youthful, vibrant and healthy appearance. These services include the following:

Breast augmentation to help restore youthful volume and balance
Breast reduction surgery to reduce complications associated with overly large breasts
Breast lift surgery to achieve a more proportional, youthful appearance
Mommy Makeovers that target problems with the abdomen, thighs, breasts and buttocks, resulting in a natural, more contoured appearance after pregnancy and breastfeeding
Facial surgeries, including eye lifts, forehead lifts, eyelid surgery, ear reshaping and lip implants
Body contouring procedures, including tummy tucks, liposuction, SmartLipo, Brazilian Butt Lifts, labioplasty and Body-Jet Contouring, all of which aid in improving the patient's overall silhouette and self-confidence
Cellulaze, a cellulite reduction procedure that gives a smoother, more aesthetically pleasing tone to the skin in persistently troublesome areas like the thighs, buttocks and abdomen
Facial rejuvenation injections, including JUVÉDERM Ultra and JUVÉDERM Ultra Plus, Radieese, Belotera, BOTOX Cosmetic and Dysport, all proven to reduce visible signs of aging
Active FX CO2 Laser Resurfacing for smoother, more evenly toned skin
In order to serve his patients more comprehensively, Dr. McHugh has partnered with Secret Expressions Med Spa in The Woodlands, Texas. This one-of-a-kind wellness spa and boutique is the ideal complement to Dr. McHugh's cosmetic surgery practice, as the services it provides help to further enhance each patient's experience.
Clients are invited to indulge in a luxuriously appointed spa atmosphere while enjoying personal service from experienced massage experts, hair and nail salon professionals and cosmetic specialists. The integrated upscale clothing boutique offers a wide selection of beautiful designer apparel and accessories to highlight the patient's new and improved physique and appearance.
For more information on how board certified Dr. McHugh and his partnership with Secret Expressions Med Spa can benefit you, call 281-444-3733 or visit http://www.mchughplasticsurgery.com to schedule your initial consultation today.