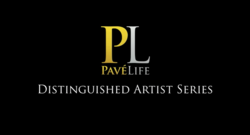 Our organization takes great pride in striving to foster interest and engagement in the foundations of arts and culture entertainment.
- Natasha Patel, Senior Director of Marketing at Pavé Life
New York, NY (PRWEB) September 20, 2012
The entertainment deals site Pavé Life has just launched the first episode of its new "Distinguished Artist Series." This first show features an in-depth interview with internationally-renowned violinist Gil Morgenstern.
View the video interview with Gil Morgenstern here: http://bit.ly/UdP1Sa
The exclusively web-based series (available on YouTube and Pavé Life's new blog) will showcase some of the most current and talented members of the arts world, from memorable musicians to masterful artists, in dynamic interviews and behind-the-scenes footage.
The critically acclaimed Gil Morgenstern, whom The New York Times praises as "a perfect demonstration of supreme ability," is an ardent disciple of classical composition who thrives on the innovative capabilities his technical prowess affords him. All it takes is a position within earshot to recognize Morgenstern's true mastery of the violin.
"Our organization takes great pride in striving to foster interest and engagement in the foundations of arts and culture entertainment. We feel it is a vital responsibility to make these experiences accessible and memorable, enriching and enlightening, with the hopes of keeping this appreciation for the arts alive," said Pavé Life's Marketing Director, Natasha Patel.
His creativity and interdisciplinary curiosity permeates into his artistic direction of his now-running Reflection Series, a meticulously-curated celebration of enlightening chapters in classical music.The project that New York Magazine calls an "illuminating annual series" succeeds as a lineup of interdisciplinary concerts in non-traditional venues. Visit Pavé Life for available seats at the "Reflection Series" and other great offers like it.
About Pavé Life
Pavé Life is an online service that provides premium arts and cultural entertainment at significant discounts as well as exclusive dining options, allowing consumers to create a luxurious and affordable night out on the town. While those seeking first-class entertainment must usually pay exorbitant prices, Pavé Life offers a great alternative with tickets to venues nationwide up to 65% off. Additionally, you may choose to add an available premium restaurant and/or luxury hotel (up to 50% off) to your ticket offer to make it a memorable night out or night away.
Stay tuned for more great episodes in this exclusive series from Pavé Life.
For more information, check out Pavé Life's arts and culture blog or visit PaveLife.com