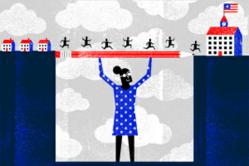 We need leaders who understand the consequences of reforms on improving schools.
Washington, D.C. (PRWEB) September 20, 2012
According to a 2010 study commissioned by the Council of Chief State School Officers and the Wallace Foundation, few educational leaders feel "very well prepared" to implement educational reforms or curriculum and performance standards. In order to implement federal education reform initiatives such as "No Child Left Behind" and "Race to the Top," educational leaders need to know how to design and implement major reform strategies—a skill set that demands the ability to navigate complex policies and laws and implement reforms to increase educational opportunity across communities.
American University and Teach For America (TFA) have partnered to offer new graduate degree programs to specifically help address this problem. The programs, offered at discounted tuition, are open to TFA corps members in their second year of teaching in D.C. Public Schools as well as TFA alumni and staff from regions across the country.
The primary degree program, offered through American University's School of Education, Teaching and Health , is a Master's of Education (MEd) in Curriculum and Instruction: Educational Policy and Leadership. TFA corps members, alumni, and staff will also have the option to earn a second degree: either a Master's in Public Administration from AU's School of Public Affairs or an MBA from AU's Kogod School of Business .
Graduates will have in-depth knowledge of educational policy and be prepared for leadership positions in schools, school systems, educational policy groups, government agencies, and in universities. The dual degree options, a rare offering in graduate education for TFA corps members and alumni, will empower graduates to bring new areas of expertise and skill sets to education-related fields.
A Critical Time in Education Reform
Sarah Irvine Belson, dean of American University's School of Education, Teaching and Health, says the AU–TFA partnership comes at a critical time—a time unlike any other—in education reform in the United States.
"Modern education reform is different today because the perception of education's purpose is different today than it was 50 years ago," said Irvine Belson, who is also the author of a forthcoming book about modern education reform in the United States. "As such, schools need to function in very different ways. Rather than viewing education simply as a means to an end, schools and school systems must provide the supports to take care of families and communities in more comprehensive ways."
The spotlight on standardized tests as the cornerstone of modern education reform, with the focus on underperforming schools—usually those that serve socially and economically disadvantaged students—has caused teachers and administrators to scramble to rethink how to teach and evaluate students and teachers alike.
Both "No Child Left Behind" and "Race to the Top" initiatives include standardized testing provisions: the former linked students' test scores to federal funding for schools, while the latter ties scores to teacher salaries. These policies require administrators to use more nuanced and innovative approaches to supporting teachers and learning communities.
The Problem with Focusing on Standardized Tests
While standardized tests offer a highly measurable way of gauging students' academic proficiencies, Irvine Belson says using them as the sole basis to judge schools' or teachers' effectiveness is a mistake.
"In reducing school improvement to a one-dimensional emphasis on academic knowledge and skills amenable to testing and measurement, many administrators and policy makers ignore the important socializing, character-building, moral, and ennobling functions of schools and teachers, as well as the impact of extra-curricular influences on students' academic performance," Irvine Belson said.
This is especially evident, Irvine Belson says, in the achievement-gap. Generally, students with a stable socio-economic status perform better academically than do students with an unstable or disadvantaged socio-economic status. And this isn't just in the United States. The student-performance/socio-economic status connection has been documented through numerous case studies around the world.
"This isn't, of course, because disadvantaged students are incapable of learning," Irvine-Belson said. "It is because these students may lack the needed social support to better encourage them to learn. High performing schools that serve disadvantaged students—the exceptions to the norm—overcome this by working consistently with social and human service agencies to improve the lives of students inside and outside the classroom."
Teachers Need to Lead
Just as the focus on standardized tests ignores the importance of educating the whole child, it also undermines the role and influence of the teacher.
"Today's reform prescriptions reduce the art of teaching to teacher-proofed, mechanical, and routinized behaviors," Irvine-Belson said. "Teachers serve merely to fill children's heads with facts and figures and not help them develop decision-making skills or civic identity."
Ironically, teachers know today's students best and how to best create learning environments for them, and so should be leading the reform movement. While teachers feel at home at the head of the class, public policy is a different ballgame, so teachers have, historically, relied on their unions—groups with long histories of navigating policy—to represent their interests.
But now may be an ideal time for more teachers to take a more active, involved role in helping shape education reform. According to a May 2012 Education Week article , "a new generation of education advocacy groups" is switching up how education reform policy is debated and enacted. Some of these organizations are led by former educators, such as StudentsFirst, founded by former D.C. Schools Chancellor Michelle Rhee, who is also a TFA alumna.
Its Washington, D.C., location—where education policy takes shape—and its nationally ranked schools of education, public affairs, and business, make American University the ideal home for the partnership.Teach For America's commitment to closing the achievement gap dovetails with AU's mission to address the most pressing issues of our time, and according to TFA's Office of Alumni Affairs, American University is among the top 10 schools from which TFA alumni hold graduate degrees.
Irvine Belson says too much is at stake to not encourage and prepare more teachers with experience in urban schools to lead in education—especially when it comes to reform.
"We need leaders who understand the consequences of reforms on improving schools," Irvine Belson said. "We need leaders who won't jump on board the newest trend without knowing the research and the effects that trend or policy will have on the schools and the communities they serve."