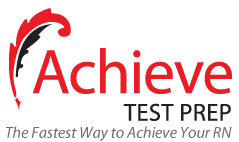 "By adding locations nationwide, we strive to make it easier for medical professionals to achieve their RN," states Mark Olynyk, CEO of Achieve Test Prep.
Wayne, NJ (PRWEB) September 26, 2012
Achieve Test Prep, an educational program dedicated to assisting medical professionals earn their RN degree faster and easier, is expanding its locations. Achieve Test Prep's newest flagship location is located at 5 Penn Plaza in midtown Manhattan. The company also leased a new facility in Vineland, NJ and opened a location in Melville, NY. Achieve Test Prep serves students in New York, New Jersey, Pennsylvania and Missouri.
Achieve Test Prep offers a unique fast-track RN bridge program that combines the effectiveness of real classroom learning with the speed of credit by examination. Unlike its competitors, the program requires no long term contracts, has no waiting list, and offers a reasonable refund policy.
In addition to location based study, Achieve Test Prep offers online RN Bridge classes to make the course work convenient for its students. States Mark Olynyk, CEO of Achieve Test Prep, "Our goal is to assist health care professionals receive their RN in the easiest and least expensive manner. We do this by offering online RN bridge and onsite courses, as well as credit by examination." Through credit by examination students learn the content of each course and pass exams to get full college credit.
Achieve Test Prep stands out from other LPN to RN bridge programs by the amount of support their students receive. If students have trouble passing they are enrolled in a special test remediation program called, ACHIEVE 911, at no extra cost. This personalized study plan ensures they pass the next time.
Student Exam Pass Rates is an attribute Achieve Test Prep is most proud of. With a 94% average success rate, the institute is well above the average for schools of its kind. Director of Education, RN Dina Rizzuto-Francis attributes this to the support and transparency of its program. Says Rizzuto-Francis, "Students have access to me and their instructors through social media, email and onsite support. We take a personal stake in their success."
According to Mark Olynyk, expansion plans continue. "New locations continue to be scouted," states Mark." "RN bridge programs continue their popularity as RN demand continues to be strong."
About Achieve Test Prep
Achieve Test Prep-The Fastest Way to Achieve Your RN is committed to providing academic excellence, in-demand career training and customized RN bridge plans for adults looking to advance their careers. The company, with campus locations in New Jersey, New York, Pennsylvania and Missouri, is devoted to helping medical professionals advance their careers by becoming RNs through credit by examination. Achieve Test Prep offers both online and on-site classes to provide students with the most class scheduling options. Its Achieve 911 student help program helps struggling students to pass their exams. For more information visit http://www.achievetestprep.com